Product News: Computer Hardware & Peripherals, Machinery & Machining Tools
Mobile IP Router Subsystem is rugged and SWaP-C optimized.
Press Release Summary: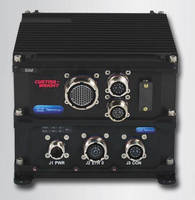 July 9, 2014 - Combining Cisco® 5915 Embedded Services Router and Cisco ESS 2020 Gigabit Ethernet (Gbe) switch in one line replaceable unit (LRU), 23-port (2x Routed, 21x Switched) Parvus DuraMAR 5915 (2X Series) speeds and simplifies integration of networking routing and switching functionality in deployed military and commercial aerospace applications. Product also features Cisco Internetwork Operating System-based managed switching and routing architecture.
Original Press Release
Curtiss-Wright's New Rugged SWaP-C Optimized Mobile IP Router Subsystem Features an Integrated Cisco® ESS 2020 Gigabit Ethernet (GbE) Switch
Press release date: June 30, 2014
New 23-Port Parvus DuraMAR 5915 2X Series reduces power consumption while delivering expanded port count and Cisco IOS management

ASHBURN, Va. – Curtiss-Wright Corporation (NYSE: CW) today announced that its Defense Solutions division, a Cisco® Systems Solution Technology Integration (STI) partner, has introduced an enhanced version of its commercial-off-the-shelf (COTS) Parvus DuraMAR 5915 rugged SWaP-C optimized mobile IP Router subsystem that features an integrated Cisco® ESS 2020 Gigabit Ethernet (GbE) Switch. The 23-port (2x Routed, 21x Switched) Parvus DuraMAR 5915 (2X Series) reduces power consumption while delivering expanded port count by combining a Cisco 5915 Embedded Services Router and a Cisco ESS 2020 Ethernet switch in a single line replaceable unit (LRU). Thanks to its industry standard Cisco Internetwork Operating System (IOS)-based managed switching and routing architecture, the DuraMAR 5915 can also significantly reduce user training requirements. Designed to deliver optimal performance in harsh conditions, the rugged, compact unit is designed to meet MIL-STD-810G, MIl-STD-461F, MIL-STD-1275, MIL-STD-704F, and RTCA/DO-160G standards. The DuraMAR 5915 speeds and simplifies the integration of networking routing and switching functionality in deployed military and commercial aerospace applications such as tactical ground vehicles and rotary and fixed wing aircraft. It enables system integrators to deploy Cisco Mobile Ready Net capabilities, including data, video, and voice services, virtually anywhere LAN or WAN connectivity may be required, especially in mobile, airborne, ground, manned or unmanned vehicle and sensor applications.

"The Parvus DuraMAR 5915 2X is the most rugged implementation and combination of a Cisco 5915 router and Cisco ESS 2020 switch available in the market today and enables system integrators to extend the Cisco Systems Enterprise Networking Infrastructure beyond the reach of traditional fixed-networks into mobile and embedded networking applications at the extreme edge of the network," said Lynn Bamford, Senior Vice President and General Manager, Defense Solutions division. "Leveraging Cisco's IOS, Curtiss-Wright customers are able to deploy unified communications and secure mobile IP networks in the battlefield.  Helping to meet today's growing concern about Cyber Warfare terrorism, critical systems like the DuraMAR 5915 2X are used to triangulate threats before an attack."

Because the DuraMAR 5915 subsystem integrates a Cisco-based router/switch solution in a single subsystem, it eliminates the need for the system designer to choose between either a rugged Cisco router/non-Cisco switch approach or the use of multiple, standalone Cisco-based router and switch boxes.

The DuraMAR 5915 complements Curtiss-Wright's Parvus DuraNET 20-10 20-port GbE Switch and Parvus DuraCOR 80-40 mission computer subsystems in IP networking technology refresh and situational awareness upgrade applications deployed at the tactical network edge. When optionally integrated with a DuraCOR mission computer, the DuraNET 5915 forms the basis of a DuraWORX system to deliver further levels of LRU and SWaP-C reduction.

For more information about the Parvus DuraMAR 5915 Series 2X, please click here.

Sales inquiries: Please forward all Sales and reader service inquiries to Kavita Williams, Curtiss-Wright Defense Solutions, Tel: (661) 705-1142; Fax: (661) 705-1206; email: ds@curtisswright.com.

About Curtiss-Wright Corporation
Curtiss-Wright Corporation (NYSE:CW) is a global innovative company that delivers highly engineered, critical function products and services to the commercial, industrial, defense and energy markets.  Building on the heritage of Glenn Curtiss and the Wright brothers, Curtiss-Wright has a long tradition of providing reliable solutions through trusted customer relationships. The company employs approximately 10,000 people worldwide.  For more information, visit www.curtisswright.com.

Note: All trademarks are property of their respective owners.

John Wranovics
Director of Public Relations
Curtiss-Wright Defense Solutions
jwranovics@curtisswright.com
Mobile: (925) 640-6402