Mobile Direct Thermal Printer uses wireless communications.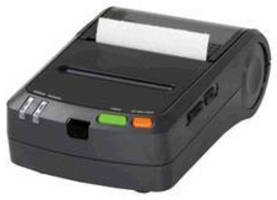 Mobile Direct Thermal Printer uses wireless communications.
February 4, 2010 - Measuring 5.12 x 3.27 x 1.77 in., DPU-S245 prints 58 mm wide receipts with 203 dpi output at rates to 100 mm/sec for mobile workforce applications. Bluetooth®, IrDA, USB, and serial interfaces enable wireless and wired connectivity, and support for EZ-OP(TM) clamshell-style tray facilitates paper replacement. Rated for 50 km printed output, equivalent to 320,000+ 6 in. printouts, product weighs 0.62 lb and has 48 mm print width.

(Archive News Story - Products mentioned in this Archive News Story may or may not be available from the manufacturer.)
Original Press release

Seiko Instruments U.S.A., Inc.
2990 W. Lomita Blvd.
Torrance, CA, 90505
USA



Seiko Instruments Extends Line of Wireless Mobile Printers for Budget-Conscious Users


Torrance, CA - Seiko Instruments USA Inc. (SIU) Thermal Printer Division, http://www.siiprinters.com, a globally recognized leader in thermal printer technology, today announced availability of a new wireless 2" direct thermal mobile printer. The ultra-small DPU-S245 weighs 0.62 lbs and measures 3.27 inches wide by 1.77 inches high by 5.12 inches deep. Developed for mobile workforce applications, the printer is among the fastest on the market, producing crystal clear 203 dpi output at 100 mm/sec. The DPU-S245 gives channel partners a fast, lightweight, and dependable mobile receipt printer with a very competitive starting price of $253.

"The new DPU-S245 adds a cost-effective and durable printer to our growing line of mobile wireless solutions," said Kaz Onishi, Vice President and General Manager, Seiko Instruments USA. "It's ideal for mobile applications, and offers the speed, size, and value to satisfy budget-conscious users in emerging markets, like Latin America, and in organizations where spending has been constrained by economic uncertainty."

The DPU-S245 combines integration flexibility, dependability, and ease-of-use. Bluetooth® and IrDA wireless connectivity and USB and Serial wired connections, make the printer suitable for a broad range of mobile and tethered receipt printing applications. A windows driver and software development kit for Windows CE and Windows mobile are also available. The DPU-S245 is rated for 50km printed output, equivalent to over 320,000 6-inch printouts. The printer also supports the Seiko Instruments EZ-OP(TM) clamshell-style paper tray for simple, no-fuss paper replacement.

About Seiko Instruments Inc.

As a member of The Seiko Group, Seiko Instruments (SII) represents a globally recognized brand, embodying innovative design and precision manufacturing excellence. Founded in 1937, SII manufactures and markets electronic components, thermal and specialty printers, consumer electronics, communication and network technology, scientific instrumentation, and precision manufacturing technology. SII has a global presence, with more than 13,000 employees worldwide.

Information about Seiko instruments kiosk printers, mobile printers, portable printers, receipt printers, POS printers, point of sale printers, and thermal printer mechanisms can be found at http://www.siiprinters.com.

To view the original press release, please visit the Seiko Instruments web site http://www.siiprinters.com/about/news_dpus245.aspx.


---