Product News: Vision Systems, Electrical Equipment & Systems
Miniature CFL Lamps target commercial applications.
Press Release Summary: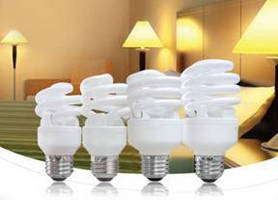 March 4, 2014 - Providing instant one-for-one replacements for 40, 60, 75, and 100 W incandescent lamps in any commercial or residential application, Neolite™ Miniature CFLs feature uniform T2 spiral-top design and micro ballasts. Units generate 70–73 lm/W with CRI of 80 and color temperatures of 2,700, 4,100, and 5,000 K. Available with lumen outputs from 700 for 10 W model to 1,675 lm for 23 W version, lead-free lamps use standard 120 line voltage, start instantly, and operate up to 10,000 hr.
Original Press Release
Litetronics® Introduces New, Improved Neolite(TM) Mini-CFL Lamps for Commercial Applications
Press release date: February 22, 2014
New Product Introduction:  New, improved Neolite™ Miniature CFL lamps are now more energy efficient and even shorter than previous models.  With redesigned T2 glass spiral tops and new micro ballasts, these latest Neolite™ lamps are on average 15% brighter while reducing their maximum overall length by 8%. Neolite™  CFLs are available in four wattages and three Kelvin temperatures. Overall, Neolite™ is a very economical, energy-efficient, high efficacy, ballasted screw-base lamp for new and retrofit commercial and residential interiors.

Design:  Litetronics® International, a U.S. company supplying state-of-the-art lamps to America and other markets for more than 43 years.

Product Applications:  Neolite™ Miniature CFL lamps provide instant one-for-one replacements for 40-, 60-, 75- and 100-watt incandescent lamps in any commercial or residential application.  With their small size, high light output and range of available Kelvin temperatures, they are ideally suited for hospitality and multi-unit housing applications, among many others. Neolite™ Miniature CFLs are ideal for upscale designed interiors and light-fixtures, where energy-saving high-performance and maintenance-free long-life, are sought-after benefits.

Product Description:  Neolite™ Miniature CFL lamps have a sophisticated, uniform T2 spiral-top design across their model range.  They generate from 70 to 73 lumens per watt, providing up to 78% energy savings compared to incandescents.  Their new lengths are up to 8% shorter than previous Neolite™ CFL screw-base lamps.

Available Kelvin temperatures include 2700K, 4100K and 5000K.  Their Color Rendition Index (CRI) is a uniformly high 80 for all four Neolite™ Miniature CFL models, with each rated at 10,000 hours operating life using standard 120 line voltage. Each model carries a one-year factory warranty.  Lumen outputs range from 700 for the 10-watt model Neolite™ Miniature CFL, to 1675 lumens for 23-watt versions.

Neolite™ Miniature CFL lamps are UL and cUL listed for electrical safety; meet FCC qualifications for low electrical interference and noise when operating; are low in mercury content and lead-free; start instantly, warm-up to full brightness quickly and last 13 times as long as incandescent bulbs.  2700K models in all four wattages are Energy Star qualified for applicable rebates or tax credits.

Contact Information:  Learn more about innovative Litetronics® Neolite™ Mini CFLs, or many other Litetronics® advanced-design energy-saving light sources and customer capabilities, by visiting us online at: www.Litetronics.com.  Litetronics® is located at 4101 West 123rd Street, Alsip, Illinois 60803. 
Telephone toll free: (800) 860-3392, or (708) 389-8000. 
Fax: (708) 371-0627. 
Email: CS@Litetronics.com.