Mini-ITX Embedded Motherboard withstands harsh environments.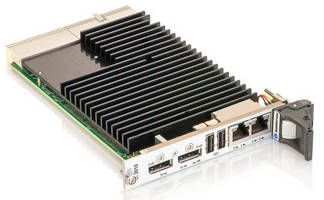 Mini-ITX Embedded Motherboard withstands harsh environments.
December 9, 2013 - Powered by dual- or quad-core 4th generation Intel® Core™ i3/i5/i7 processor up to 3.4 GHz, vibration- and shock-proof KTQM87/mITX is based on Intel® QM87 chipset and supports up to 16 GB DDR3 RAM with ECC support. ATX-compatible motherboard, supporting performance-intensive applications in 0 to +60°C environments, offers diverse selection of interfaces. Customer-specific functions can be integrated via PCIe and Mini PCIe extension slots as well as embedded Feature Connector.

Original Press Release

Kontron
14118 Stowe Dr.
Poway, CA, 92064
USA



Kontron Extends Mini-ITX Portfolio with a Motherboard Featuring Soldered 4th Generation Intel® Core(TM) Processors


Kontron launches long-term available KTQM87/mITX motherboard - a vibration- and shock-proof 'mini powerhouse' for harsh environments

Eching/Nuremberg — With the launch of the new embedded motherboard KTQM87/mITX Kontron is extending its long-term available Mini-ITX portfolio to include a vibration- and shock-proof motherboard with a soldered 4th generation Intel® Core™ processor (formerly codenamed 'Haswell'). This 'mini powerhouse' has been designed especially for performance-intensive applications in harsh environments and supports the extended temperature range of 0°C to +60°C. With its outstanding graphics performance, the board operates up to three independent displays or an ultra-high resolution 4K monitor. Additionally, the Kontron KTQM87/mITX boasts an excellent performance-per-watt ratio and optimized Thermal Design Power (TDP). The ATX-compatible motherboard offers an extensive ecosystem, so that developers can design even the most demanding systems based on standard components. This reduces R&D costs and accelerates time-to-market. Examples of target applications for the long-term available embedded motherboards are in IPCs, medical computers for image processing, professional gaming systems or digital signage players and point-of-sales terminals.

The Kontron KTQM87/mITX excels with a wide selection of interfaces. In addition, customer-specific functions can be integrated via standard extension slots such as PCI Express and Mini PCIe as well as Kontron's own embedded Feature Connector. With its SIM-card socket, the motherboard is also destined for deployment in intelligent, distributed 'Internet of Things' applications. By supporting the Intel® Advanced Vector Extensions (AVX) 2.0, the board offers DSP class I/O processing performance. This qualifies the ECC supporting Kontron KTQM87/mITX as an ideal platform for industrial real-time control applications. Due to the fact that the boards have a 7 year long-term availability, OEMs always obtain the same boards for additional or replacement systems and thus manage large field deployments extremely efficiently.

The feature set in detail
The Kontron KTQM87/mITX Mini-ITX embedded motherboard is based on the Intel® QM87 chipset and supports up to 16 gigabytes of DDR3 RAM with ECC support. It is equipped with a dual- or quad-core 4th generation Intel® Core™ i3/i5/i7 processor (FCBGA1364) with up to 3.4 GHz. For application-specific extension cards, it provides both a PCI Express Gen 3.0 as well as two Mini PCIe slots. Further peripherals connect via four USB 3.0 and eight USB 2.0 ports as well as via Kontron's embedded Feature Connector which is capable to execute up to 160 GPIOs. Additionally, the Feature Connector can be delivered application-ready with the Kontron KT Evaluation Breakout Board, which further simplifies and accelerates system designs. The new embedded motherboard supports up to three independent high resolution displays or one 4K monitor via DisplayPort 1.2. The additional LVDS interface enables the connection of common and cost efficient embedded displays. Two GbE interfaces – one with Intel® AMT 9.0 support – allow for extended network options. A large choice of memory media connects via 2x mSATA Gen 3.0 for on-board SSD (multiplexed with mPCIE) and four SATA interfaces with RAID 0/1/5/10 functionality (2x 1.5/3 Gbit/s, 2x SATA Gen 3.0 interfaces with up to 6 Gbit/s bandwidth). HD audio and two COM interfaces round off the motherboard's feature set.

The Kontron embedded Mini-ITX motherboard KTQM87/mITX supports Windows 7 and 8, Windows Embedded Standard 7 as well as VxWorks and different Linux distributions (amongst others Red Hat Enterprise, Novell SuSE Linux Enterprise, Red Flag Linux and Wind River Linux). First sample boards of the new embedded Mini-ITX Motherboard Kontron KTQM87/mITX are now available.

Further information is available at the Kontron embedded Mini-ITX motherboard KTQM87/mITX product page.

More details on Kontron motherboards are available at Kontron's embedded motherboard product page

About Kontron
Kontron is a global leader in embedded computing technology. With more than 44% of its employees in research and development, Kontron creates many of the standards that drive the world's embedded computing platforms. Kontron's product longevity, local engineering and support, and value-added services, help create a sustainable and viable embedded solution for OEMs and system integrators. Kontron works closely with its customers on their embedded application-ready platforms and custom solutions, enabling them to focus on their core competencies. The result is an accelerated time-to-market, reduced total-cost-of-ownership and an improved overall application with leading-edge, highly-reliable embedded technology.

Kontron is listed on the German TecDAX stock exchange under the symbol "KBC". For more information, please visit: http://www.kontron.com/

Media Contacts

North America
Justine Johnson
Kontron
Tel: +1 858 677 .0877
justine.johnson@kontron.com

Annette Keller
Keller Communications
Tel: +1 (949) 640-4811
annettekeller@sbcglobal.net

All rights reserved. Kontron is a trademark or registered trademark of Kontron AG. Intel® and Intel® Atom™ are trademarks or registered trademarks of Intel® Corporation in the US and other countries. PICMG® and CompactPCI® are trademarks or registered trademarks of the PCI Industrial Computers Manufacturers Group. All other brand or product names are trademarks or registered trademarks or copyrights by their respective owners and are recognized. All data is for information purposes only and not guaranteed for legal purposes. Subject to change without notice. Information in this press release has been carefully checked and is believed to be accurate; however, no responsibility is assumed for inaccuracies.

---
| Featured Manufacturing Jobs