Mini Datalogger features 4 integrated sensors.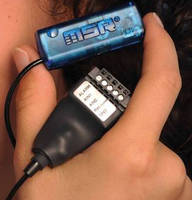 Mini Datalogger features 4 integrated sensors.
January 21, 2009 - Measuring 52 mm long, MSR145 Analogue is equipped with temperature, humidity, pressure, and 3-axis acceleration sensors. Logger includes alarm output, 1 input for starting and stopping data recording, and 2 or 4 inputs for connecting external analog sensors. Featuring sealed, fully encapsulated design, unit provides storage capacity for over 2,000,000 parameters and is suited for measurement and monitoring tasks in industrial and scientific applications.

(Archive News Story - Products mentioned in this Archive News Story may or may not be available from the manufacturer.)
Original Press release

MSR Electronics GmbH
Oberwilerstrasse 16
Henggart, , CH-8444
Switzerland



A World First in a Thumb-Sized Format: Mini Datalogger


A world first in a thumb-sized format: Mini datalogger "MSR145 Analogue"

Henggart, January 2009 - Swiss technology company MSR Electronics GmbH launches the world's first mini datalogger with four integrated sensors, a storage capacity for over 2,000,000 measurement parameters and either two or four additional analogue inputs.

20,000 hours of research and development efforts have now come to fruition: With the MSR145 Analogue, MSR Electronics GmbH now presents a development of the successful MSR145. The revolutionary and low-priced MSR145 Analogue is the world's first miniaturised quality datalogger with integrated temperature, humidity, pressure and 3 axis acceleration sensors and which offers an additional two or four inputs for connecting external analogue sensors. In a further innovation, MSR Electronics has fitted the datalogger with an alarm output and one input for starting and stopping data recording.

Small unit packs powerful features

The new MSR145 Analogue combines all the advantages of the MSR145 datalogger (such as an exceptionally large storage capacity and the ability to simultaneously measure and record four different measurement parameters) with the benefits offered by additional external sensor interfaces. The two or four analogue inputs (0 to 3.0 V, 12 bit) can be used for a wide range of conventional sensors (e.g. conductivity, speed), opening up in one fell swoop a new spectrum of applications for the user in an extremely diverse range of fields. For example, the transportation sector, building monitoring, aviation, research and development, high performance sports, engineering, the chemicals, pharmaceuticals and textile industries and in environmental technology, to name but a few. Furthermore, the sealed, fully encapsulated MSR145 Analogue model can, among others, be used in the medical, animal fodder and food sectors. In short the MSR145 Analogue is suitable for the most diverse and versatile range of measurement and monitoring tasks for industrial and scientific applications.

Flexible solution: Internal sensors also available as external version

The datalogger can be correspondingly equipped to handle measurement applications where external sensors are required instead of the integrated temperature, humidity and pressure sensors - for example when making humidity measurements of the skin for monitoring a patient. Master of Engineering (Dipl.-Ing. HTL) Wendelin Egli, chief developer at MSR Electronics GmbH: "The MSR145 Analogue is characterised primarily by its unmatched level of flexibility, highly user friendly operation and excellent quality. We develop and manufacture all equipment ourselves at our facility in Henggart and we inspect each individual unit before it is despatched. In this way we can ensure that our products are not just highly precise but we can also guarantee their long service life and robustness."

The MSR145 Analogue is just 52mm long and weighs in at only 32g. All of the measurement parameters recorded by the datalogger can be quickly transferred to a PC both during the measurement process and after it has been completed via a USB interface. The user friendly data analysis software is provided to users free of charge. For further information please visit www.msr.ch

About MSR Electronics GmbH

MSR Electronics GmbH based in Henggart, Switzerland, was established in 2006 through a management buy-out of prospective concepts ag (Zurich, Switzerland). All the activities of the MSR Department (MSR = Modular Signal Recorder), including development, production and marketing, together with sales and support of the MSR products, were acquired and broadened by MSR Electronics GmbH.

The company's core competencies lie in the development and sale of standardised, application-specific measurement data loggers for a wide spectrum of uses. MSR Electronics was able to establish a name for itself particularly in the area of modular measurement technology with the development of the portable MSR12 datalogger.

We would be pleased to provide you with further information:

MSR Electronics GmbH

Wendelin Egli, Managing Director

Tel. +41 52 316 25 55, w.egli@msr.ch, www.msr.ch

---


Start Your

Free


Subscription to


Industry Market Trends

.