Product News: Computer Hardware & Peripherals, Sensors, Monitors & Transducers
Microphone and Speakers meet IP requirements.
Press Release Summary: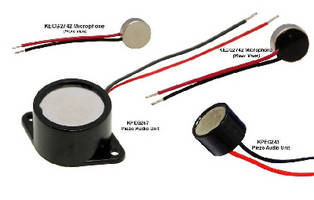 December 21, 2012 - Offering dust- and water-tight design for outdoor use, KECG2742 Omnidirectional Microphone features operating voltage of 2.0 Vdc at 100–20,000 KHz and temperature range of -20 to +70°C. Unit can be teamed with IP67-rated KPEG267 Speaker, which can operate submerged in up to 3 ft of water with sound output of 85 dB at continuous tone frequency of 5.0 KHz at 6–14 Vdc. Smaller IP67-rated TRKPE-243 Speaker, housed in 14.0 x 9.5 mm package, generates 80 dB with continuous tone of 5.0 KHz at 9–16 Vdc.
Original Press Release
New Water and Dust Proof Series
Press release date: December 18, 2012
MEETS IP REQUIREMENTS                 

Ideal for wet applications like sumps, bilge pumps, marine instruments or any other outdoor wet applications. Transducer USA, Elk Grove Village, IL is now offering a family of dust and water tight audio components that meet current IP requirements

The system consists of a 6.8 x 2.7mm Omni directional microphone that is dust and water tight and ideal for outdoor usages.  Operating voltage is 2.0 VDC at 100-20,000 KHz.  Operating temperature range is -20-+70°C    .

The Model KECG2742 microphone is teamed with a choice of two IP67 sealed piezo audio units : the Model KPEG267 which can operate submerged in up to 3 ft. of water with a sound output of 85 dB at a continuous tone frequency of 5.0KHz at 6-14VDC in a temperature range of  -30 to +85 °C and is sized at 25.6 X 16.0 mm.

The smaller if the two IP rated units, Model TRKPE-243 generates  80 dB with a continuous tone of 5.0 KHz., within an operating voltage range of 9-16VDC. The units are produced in a small package of only 14.0 Dia x 9.5H mm

Current pricing for the units in the new system depending on quantity requirements is $1.50 for the KSCG2742 microphone, $3.90 for the KPEG267 speaker and $2.95 for the KPEG243. Sample units are in stock with production quantities quoted on a 4-6 week basis ARO. Requests for samples, as well as for detailed specifications and specific quantity/price quotations and for a copy of their complete catalog of speakers, microphone and audio alerts should be addressed to Transducers USA's main office and warehouse located at:

1400 Howard Street, Elk Grove Village, IL 60007
Tel. 1-(888) 921-6400
Fax: (847) 956-1950
E-mail: info@tusainc.com
Web: www.tusainc.com

Transducers, USA's new Models of dust and water proof components  are  other examples of the company's efforts to offer cutting edge products in addition to its extensive line of piezo buzzers, ceramic elements, speakers, receivers, microphones and ultrasonic sensors and emitters to the telecommunications, medical and specialized product industrial markets throughout North America. Most of their products are certified under ISO-9002 with many having ISO-9001 and/or QS-9000, and are manufactured in modern facilities in Taiwan, China and Korea

Company Contact:  
Joe Sieracki 
(847) 956-1920