Metric Strain Reliefs come in flex and dome types.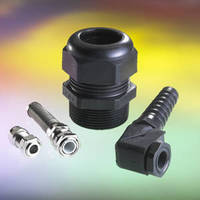 Metric Strain Reliefs come in flex and dome types.
May 20, 2009 - Equipped with O-rings for ingress protection, Metric Strain Reliefs include dome models made of nickel-plated brass, and flex models made of nylon. Halogen and phosphorous free, strain reliefs offer thread specifications and pitch of M10 x 1.5 mm, M12 x 1.5 mm, M16 x 1.5 mm, and M20 x 1.5 mm.

(Archive News Story - Products mentioned in this Archive News Story may or may not be available from the manufacturer.)
Original Press release

Interpower Corporation
100 Interpower Ave.
Oskaloosa, IA, 52577-0115
USA



Interpower Announces New Metric Strain Reliefs


Interpower Corporation announces new flex and dome types of metric strain reliefs; O-rings included for Ingress Protection (IP) rating. Nickel-plated brass dome versions are both available. Flex strain reliefs are nylon. Thread specifications and pitch are as follows: M10x1.5mm, M12x1.5mm, M16x1.5mm, and M20x1.5mm. These strain reliefs are Halogen and Phosphorous free.

Interpower Corporation houses over 4 million components in their warehouse so their customers don't have to! As always Interpower offers no minimum order requirements, and specification sheets and pricing are available online.

Same day air shipments are available for stock item orders received by 6:00 p.m. CST.
1 week manufacturing lead-time. For ordering and technical information about Interpower Corporation's Metric Strain Reliefs, please contact our Customer Service Department at 800/662-2290 or order online at www.interpower.com.

For additional editorial information, please contact Nikki Flanders at 800/662-2290 or nflanders@interpower.com

---


Start Your

Free


Subscription to


Industry Market Trends

.