Product News: Electronic Components & Devices
Metal Shunt Resistor features 3 W power and low resistance values.
Press Release Summary: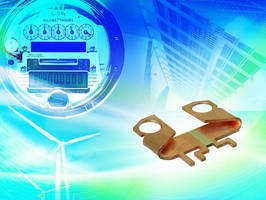 February 8, 2012 - Combining resistance values from 100-750 µW with 3 W power capability in 3124 size package, Power Metal Strip® WSMS3124 is designed for industrial and consumer single- or multiphase energy meters. It features 5-terminal connection design, all-welded construction, and offers very low inductance values of less than 0.5 nH and low thermal EMF of less than 3 µV/°C. Device is lead-free and RoHS-compliant. Physical shape results in very low TC down to 75 ppm/°C.
Original Press Release
New Vishay Meter Shunt Resistor Features Very Low Resistance, Handles 3 W of Power in 3124 Package
Press release date: February 2, 2012
MALVERN, Pa.- Vishay Intertechnology, Inc. (NYSE: VSH) today announced a new Power Metal Strip® meter shunt resistor that combines a 3 W power capability in the 3124 size package with extremely low resistance values down to 100 µW. The WSMS3124 allows placement of an electron-beam welded shunt in electrical wattmeters. The design also incorporates a physical shape that results in very low TC characteristics (down to 75 ppm/°C).
The WSMS3124 meter shunt resistor features a proprietary processing technique that produces extremely low resistance values from 100 µW to 750 µW. These values allow for increased accuracy in current meter shunt applications for industrial and consumer single- or multiphase energy meters. With a tolerance of 5.0 %, the new resistor provides power companies with more accurate data to determine customer usage and to adjust billing terms.
The WSMS3124 features a five-terminal connection design and an all-welded construction that contributes to its superior electrical performance. The resistor offers very low inductance values of < 0.5="" nh="" and="" a="" low="" thermal="" emf="" of="">< 3="" µv/°c.="" the="" device="" is="" lead="" (pb)-free="" and="" rohs-compliant.="">
Samples and production quantities of the new meter shunt resistor are available now, with a lead time of eight to 10 weeks for larger orders. Pricing for U.S. delivery only is $1.50 each in 50,000-piece quantities. Follow Power Metal Strip resistors from Vishay at http://twitter.com/vishayindust.
Vishay Intertechnology, Inc., a Fortune 1,000 Company listed on the NYSE (VSH), is one of the world's largest manufacturers of discrete semiconductors (diodes, MOSFETs, and infrared optoelectronics) and passive electronic components (resistors, inductors, and capacitors). These components are used in virtually all types of electronic devices and equipment, in the industrial, computing, automotive, consumer, telecommunications, military, aerospace, power supplies, and medical markets. Vishay's product innovations, successful acquisition strategy, and "one-stop shop" service have made it a global industry leader. Vishay can be found on the Internet at www.vishay.com.