Product News: Green & Clean, Waste Handling Equipment, Chemical Processing & Waste Management
Metal Recovery System suits auto and e-scrap processing.
Press Release Summary:
October 26, 2009 - Offering responsible method for safe recovery and recycling of e-scrap materials, multi-stage EcoTowerSort(TM) can be used for sorting of aluminum, stainless steel, copper cables, and heavy fractions. Machines are available in widths of 24-118 in. with choice of bottom or top blowing discharge designs. Utilized within vertically stacked system, modular sorting technologies can include rare earth drum separators, eddy current separators, inductive sensor sorter, or any combination thereof.
Eriez Magnetics
2200 Asbury Rd., Erie, PA, 16506, USA
Original Press Release
Revolutionary EcoTowerSort(TM) from Eriez® Is an Ideal Solution for E-Scrap Recovery
Press release date: October 21, 2009
Eriez® introduces the innovative EcoTowerSort(TM), a multi-stage, total metal recovery system ideal for auto and e-scrap processing. It is crucial to public health and the environment that e-scrap be managed appropriately because it contains a wide variety of toxic materials, including lead and mercury. "Eriez' EcoTowerSort provides a responsible method for the safe recovery and recycling of e-scrap materials," said Al Gedgaudas, Eriez Resource Recovery Market Manager.
There are currently 19 U.S. states, (plus New York City) with e-scrap legislation: California, Connecticut, Hawaii, Illinois, Indiana, Maine, Maryland, Michigan, Minnesota, Missouri, New Jersey, North Carolina, Oklahoma, Oregon, Rhode Island, Texas, Virginia, Washington and West Virginia.
About EcoTowerSort: EcoTowerSort can be used for the sorting of aluminum, stainless steel, copper cables and heavy fractions. It even recovers stainless steel and plastic coated wires. The compact machine enables total recovery of valuable metals at a lower overall investment cost.
Different modular sorting technologies are utilized within the EcoTowerSort system. Common configurations include rare earth drum separators, eddy current separators, inductive sensor sorter, or combinations of these different technologies.
The vertical stacked design saves space by eliminating numerous conveyor and feeder systems, making it easy to integrate it into an existing plant. More decks can be added as needed. Top to bottom, a typical EcoTowerSort configuration consists of a Rare Earth Drum Magnet, Eddy Current Separator, ProSort Metal Sorter and Inductive Sensor Air Sorter.
Input material is sorted on-line into several output streams, preventing a repeated material input and ensuring suitable material distribution. With EcoTowerSort, the distribution of material is optimized at each sorting step.
The EcoTowerSort can be customized to fit customers' requirements and preferences. At the metal sensor stages, material can be ejected either by the use of air or via an airless mechanical paddle system.
Machines are available in widths of 24 inch to 118 inch (610 mm to 2997 mm). Customers select bottom or top blowing discharge designs. The EcoTowerSort is low maintenance and has low air consumption. Overall costs are lower and customers see a return on investment quickly. The sale of recovered metals can pay the investment cost in a short time.
Dust proof cabinets are standard. Air conditioned modules and cabinets are optional. It also features an Internet service device for worldwide machine managing.
With EcoTowerSort, mobile or semi mobile plants are possible. To find about EcoTowerSort's many other features and benefits, contact Eriez.
Eriez is recognized as the world authority in advanced technology for magnetic, vibratory and inspection applications. The company's magnetic lift and separation, metal detection, x-ray, materials feeding, screening, conveying and controlling equipment have application in the process, metalworking, packaging, recycling, mining, aggregate and textile industries. Eriez manufactures and markets these products through ten international facilities located on six continents. For more information, call toll-free (888) 300-ERIEZ (3743) within the U.S. and Canada. For online users, visit www.eriez.com or send e-mail to eriez@eriez.com. Eriez World Headquarters is located at 2200 Asbury Road, Erie, PA 16506.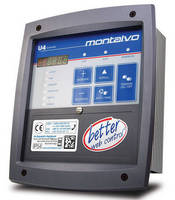 Textile Industry Products, Controls & Controllers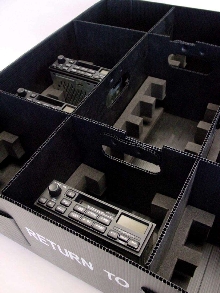 Material Handling & Storage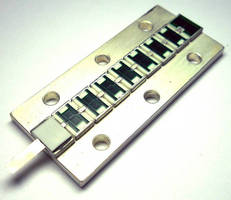 Electronic Components & Devices