Product News: Electrical Equipment & Systems
Medium Power Switches feature momentary or locking actuation.
Press Release Summary: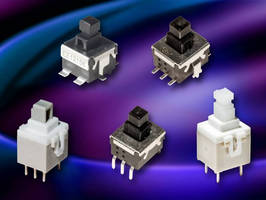 April 29, 2014 - Rated for 32VDC/3W, PVA Series includes short-stroke key switches available in DPST or DPDT configurations and designed for through-hole PCB soldering. There are 5 actuator height options from 13–23 mm, and actuation force options are 1.2, 1.7, and 3.5 N. Carrying ratings of 14 Vdc/1.4 W and 2.8 W, PVB Series comprises low-profile push switches in SPDT or DPDT configurations intended for surface mount or through-hole soldering. Actuator height is fixed, and operating force is 3 N.

Original Press Release
PVA Series Short-Stroke Key Switches, PVB Series Low-Profile SMT Switches
Press release date: April 15, 2014
NEWTON, MA -- C&K Components, a leading international supplier of tact switches, toggle and rocker switches, and smart card interconnect devices, has expanded its product line of compact PCB-mounted switches to include two new medium power switch series that feature either momentary or locking actuation configurations.

The PVA Series short-stroke key switches are designed for through-hole PCB soldering, and are available in either DPST (double pole, single throw) or DPDT (double pole, double throw) configurations.  With five different actuator height options from 13mm to 23mm and actuation force of 1.2N, 1.7N or 3.5N, the PVA Series switches can be utilized in a wide variety of control panel, industrial or automotive applications where there is a restricted footprint available on the PC board and a limited throw distance.

The PVB Series low-profile push switches are designed for surface mount or through-hole soldering and are also available in SPDT (single pole, double throw) or DPDT (double pole, double throw) configurations.  With a fixed actuator height an operating force of 3N, the PBV Series switches feature locating pegs to facilitate proper insertion onto the PC board.

"Both the PVA and PVB Series switches provide a range of options for design engineers who require compact PCB switches with a range of options for mounting," said Regis Clement, Product Manager, at C&K Components.  "They are flexible for use in either automotive and industrial control panel applications."

The PVA and PVB Series switches feature silent and smooth actuation, with the option for either momentary or locking (push-push) functionality.  The PVA Series switches are rated for 32VDC/3W, with an operational life of more than 100,000 cycles.  The PVB Series switches carry ratings of 14VDC/1.4W and 2.8W, with an operational life of 100,000 cycles.

Available in bulk packaging, the PVA Series switches are available with several colors and styles of buttons (ordered separately).  The surface-mount PVB Series switches are sold in tape-and-reel packaging and are compatible with automated pick-and-place equipment.  To learn more about the PVA/PVB Series switches, please visit:
http://www.ck-components.com/13326/pva_9jan14.pdf/ for the PVA Series datasheet, and http://www.ck-components.com/77768/pvb_25june13.pdf/ for the PVB Series datasheet, or contact a C&K engineer using the website's "Ask A Specialist" link.

About C&K Components   C&K Components is a leader in interface and switch technology as well as smart card and high reliability connector products.  C&K Components offers more than 55,000 unique part numbers that are built, priced and delivered as standard catalog items. www.ck-components.com

For more information, contact:
Allison Turner
C&K Components
617-969-3700
allison.turner@ck-components.com

Chris Burke
BtB Marketing
919-872-8172
chris.burke@btbmarketing.com