Medium Format Camera meets needs of aerial photography.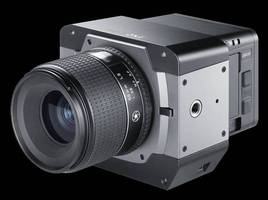 Medium Format Camera meets needs of aerial photography.
April 12, 2012 - Built to streamline image capture and processing, fully integrated iXA system comes in 80 or 60 megapixel models in either RGB or NIR versions and can be incorporated into new or existing systems. Construction incorporates 6061 aluminum alloy and secured connectors that firmly hold cables in place. Operating in single- or multiple-camera configuration, system captures synchronized images within 100 Ķsec of each other. SDK software provides control over exposure parameters during flight.

(Archive News Story - Products mentioned in this Archive News Story may or may not be available from the manufacturer.)
Original Press release

Phase One United States, Inc.
24 Woodbine Ave.
Northport, NY, 11768
USA



Phase One Launches iXA Medium Format Aerial Camera System


Dedicated medium-format aerial photography camera system delivers exceptional image quality and value

COPENHAGEN--Phase One, the world's leading pro photography equipment provider, today announced the Phase One iXA camera system, a fully integrated aerial camera system specifically designed to meet the exacting needs of aerial photography, with features that rival large-format cameras at a fraction of their price.

Developed with leading experts and engineers in the field, the iXA has been built to streamlines the image capture and processing workflow. This camera is a major addition to existing aerial camera implementations that Phase One already provides to its partners in the industry. With a choice of 80 megapixel or 60 megapixel models, in either RGB or NIR versions, the iXA is easily incorporated into existing or new systems, making it the perfect solution for both integrators and end users looking for a rugged, high-quality robust aerial camera system.

The Phase One iXA's rugged construction incorporates 6061 aluminum alloy to enable a robust solution capable of superior performance under tough aerial conditions, while secured connectors firmly hold cables in place. Designed for flexibility and scalability, the iXA operates effectively either in single or in a multiple camera configuration, capturing synchronized images within 100 microseconds of each other and eliminating post production sync issues.

The Phase One iXA offers high dynamic range and detailed image quality, with outstanding image sharpness and excellent color with Phase One's range of Schneider-Kreuznach internal electronically controlled leaf shutters and Phase One digital lenses. The Phase One SDK software provides control over critical exposure parameters such as ISO, shutter speed, aperture and capture during the flight and includes interface components for custom applications to work with the iXA camera system in a production set up.

The Phase One iXA camera system is developed manufactured by Phase One Industrial, a division which was formed in 2011 with a focus on providing advanced imaging solutions for special applications such as aerial photogrammetry, machine vision and fine art reproduction. These growing market segments will benefit from two decades of high-end photographic equipment and imaging software development experience.

Dov Kalinski, General Manger of Phase One Industrial said, "The iXA camera system offers great value to the market with its extremely high performance and cost-effective price. Phase One has spared no effort in developing a truly integrated aerial camera system."

Listed at just 45,000 EUR / 60,000 USD for the 80MP version and 40,000 EUR / 53,000 USD for the 60MP version, the iXA offers a highly competitive price performance ratio that is second to none in the medium/large format aerial photography market. Shipping for the iXA camera system will commence as of May, 2012.

About Phase One

Phase One is the world's leader in open-platform based medium format camera systems and solutions. Phase One medium format cameras, digital backs and lenses are designed to deliver superior quality image capture and investment value.Phase One's Capture One and Media Pro software helps streamline capture and post-production processes for both medium format and DSLR cameras. Phase One products are known for their quality, flexibility and speed enabling pro photographers shooting in a wide range of formats to achieve their creative visions without compromise.

For more information, please visit Phase One at http://www.phaseone.com. Follow Phase One on Twitterathttp://www.twitter.com/PhaseOneWW and on Facebook at: http://www.facebook.com/pages/Phase-One/184811514906561 Phase One is an employee-owned company based in Copenhagen with offices in New York, London, Tokyo, Cologne and Hong Kong.

---


Start Your

Free


Subscription to


Industry Market Trends

.