Product News: Test & Measuring Instruments, Sensors, Monitors & Transducers
Media Isolated Pressure Sensor features headerless design.
Press Release Summary: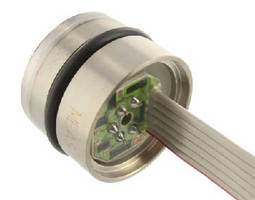 July 30, 2014 - Constructed of 316L SS or ASTM Grade 2 CP titanium, Model 154B is designed without header for O-ring mounting and OEM applications where compatibility with corrosive media is required. Backside compensated unit offers pressure ranges of 0–300 psi gage and 0–28 bar absolute with non-linearity of ±0.3% span. Operating from -40 to +105°C with compensated temperature range of -20 to +85°C, sensor is suited for dialysis machines, salt/brackish water measurements, and refrigeration/compressors.
Original Press Release
154B (Backside) Compensated Media Isolated Pressure Sensor
Press release date: July 25, 2014
Measurement Specialties, Inc. (NASDAQ: MEAS) has just released to production its new 19mm small profile 154B (Backside) Compensated media-isolated mV output pressure sensor from the existing 154 Series. Constructed of 316L stainless steel or ASTM Grade 2 CP titanium, the 154B compensated is designed without a header for o-ring mounting and OEM applications where compatibility with corrosive media is required. The titanium option offers greater resistance to corrosive materials and harsh cleaning chemicals, opening the range of its application use to things such as dialysis machines and salt/brackish water measurements.

The 154B's "headerless" design is a lower cost solution for low pressure applications where the silicon pressure die is attached "upside down" directly to the stainless steel or titanium module. From 0 - 300psi in gage and 0 - 28bar in absolute, the 154B compensated has a pressure non-linearity of ±0.3 %Span with an overload pressure of 2x rated and burst pressure of 3x rated. Operating at a -40°C to +105°C temperature range, this pressure sensor accomplishes the feat of having a compensated temperature range of -20 to +85°C — a range currently unrivaled in the marketplace.

This backside compensated pressure sensor excels at various applications such as: medical instrumentation (dialysis machines), process control, fresh/waste/salt/brackish water measurements, refrigeration/compressors, pressure transmitters and hydraulic controls. Please contact our team of experienced engineers for more custom configurations of this pressure sensor to meet your specific application needs.

Measurement Specialties, Inc. designs and manufactures sensors and sensor-based systems. The company produces a wide variety of sensors and transducers to measure precise ranges of physical characteristics such as pressure, force, vibration, torque, position, temperature, humidity, fluid properties, mass air flow and photo optics. Measurement Specialties uses multiple advanced technologies – including  piezo-resistive, electro-optic, electro-magnetic, variable reluctance, magneto resistive, digital encoders, thermistors, thermocouples, RTDs, capacitive, resonant beam, application specific integrated circuits (ASICs), micro-electromechanical systems (MEMS), piezoelectric polymers and strain gauges to engineer sensors that operate accurately and cost-effectively in customers' applications.

For more information about Measurement Specialties and our products, e-mail pfg.cs.amer@meas-spec.com or visit us at www.meas-spec.com.

Bobby Lee
Office (510) 498-1570 x241
bobby.lee@meas-spec.com