Measurement Software enhances data collection and management.
Press Release Summary: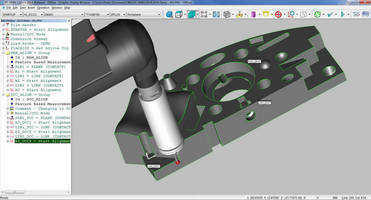 July 10, 2014 - Used for collecting, evaluating, managing, and presenting manufacturing data, PC-DMIS 2014 delivers tools and technologies to promote measurement devices performance and inspection planning time effectiveness while facilitating completion of complex inspection routines. Features such as single-click QuickFeature creation from CAD models and single-click QuickAlign capability are complemented by contact auto features, QuickMeasure toolbar, and Copy/Paste Parameters functions.
Original Press Release
Hexagon Metrology Introduces PC-DMIS 2014, a Major Release of the World's Most Popular Measurement Software
Press release date: July 3, 2014
Software Innovations Include New Productivity Enhancements and Quick Access Tools

North Kingstown, RI -- Hexagon Metrology today launched PC-DMIS 2014, a major release of the world's most popular measurement software used for the collection, evaluation, management and presentation of manufacturing data. PC-DMIS 2014 introduces tools and technologies that will help measurement devices perform better than ever, increase the effectiveness of inspection planning time, and make it easier to complete complex inspection routines. Hexagon Metrology will demonstrate PC-DMIS 2014 with over 17 Major and 81 Minor software enhancements in Booth 5202 at IMTS (International Manufacturing Technology Show) 2014, McCormick Place, Chicago, IL from September 8-13, 2014.

The new software includes a number of productivity advancements to improve speed of common programming tasks and to improve the overall user experience.

"PC-DMIS 2014 delivers new and improved capabilities based on real-world user feedback from the PC-DMIS forum and our technical support teams," said Ken Woodbine, president of Hexagon Metrology software division. "This release is focused on productivity, and sets the stage for future user experience enhancements already in the planning stage and moving forward."

Highlights of PC-DMIS 2014 include a new 1-click "QuickFeature" feature creation from CAD models, where users can also create Quick Features by hovering their mouse over a CAD model to highlight CAD elements. Contact auto features are created from a single click on the CAD model without using any menu options or dialog boxes

There is also a 1-click "QuickAlign" capability where users can now select valid combinations of one, two, or three features to create a quick alignment. The QuickAlign feature will also initiate manual and DCC alignments when used at the beginning of a part program. These new productivity tools are packaged in a new QuickMeasure toolbar giving drop-down access to common measurement features, giving more screen real estate to the graphics and the measurement routine.

The new software version also includes Copy Parameters and Paste Parameters functions, which copy parameters from one feature or dimension, and paste them to another feature(s) or dimension(s) in the Edit window, making block changes much faster.

PC-DMIS 2014 also rolls out a new Mini Routines feature which can be used to measure a selected dimension or group of dimensions from a long part program. Mini routines offer characteristic-based measurement and the ability to measure a part of a complete measurement routine.

PC-DMIS is the flagship software package for Hexagon Metrology measurement devices and a wide range of other measurement equipment in the marketplace.

About Hexagon Metrology

Hexagon Metrology offers a comprehensive range of products and services for all industrial metrology applications in sectors such as automotive, aerospace, energy and medical. We support our customers with actionable measurement information along the complete life cycle of a product – from development and design to production, assembly and final inspection.

With more than 20 production facilities and 70 Precision Centers for service and demonstrations, and a network of over 100 distribution partners on five continents, we empower our customers to fully control their manufacturing processes, enhancing the quality of products and increasing efficiency in manufacturing plants around the world.

Hexagon Metrology is part of Hexagon (Nordic exchange: HEXA B; www.hexagon.com). Hexagon is a leading global provider of design, measurement and visualization technologies that enable customers to design, measure and position objects, and process and present data.

Press Contact: Belinda Jones, HiTech Marketing, 860-399-1147, Belinda.jones@hitechmarketing.com
Marketing Contact: Bill Fetter, Hexagon Metrology, 847-214-5234, William.fetter@hexagonmetrology.com