Product News: Electrical Equipment & Systems
Matrix Module targets critical signal switch applications.
Press Release Summary: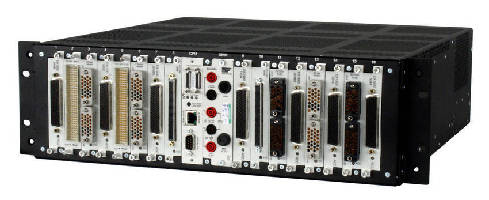 April 21, 2014 - Made up of dual 2 x 32 (2-wire) matrix with access to integrated DMM within chassis, Safe-to-Connect EX1200-4265 provides parametric testing capability when connecting to critical products such as rockets, missiles, and aircraft. Switch module combined with software allows users to accomplish isolation measurements between any 2 points, continuity measurement, and parametric path measurement. Users can scale up from 64 channels to thousands of channels as required by application.
Original Press Release
Industry's First "Safe to Connect" Subsystem for Critical Signal Switch Applications
Press release date: April 8, 2014
Irvine, CA,  - VTI Instruments is pleased to announce it has expanded its award winning switch/measurement instrument (EX1200 family), providing users with parametric testing capability when connecting to critical products such as rockets, missiles, and spacecraft. At the heart of the system is a unique switch module (EX1200-4265) combined with software that allows users to quickly and efficiently accomplish:
Isolation measurements between any two points
Continuity measurement
Parametric path measurement (voltage, current, timing (rise time, fall time), noise (differential, common mode, ground noise), impedance, isolation and continuity
"Safe to connect" - measure stimulus prior to connecting of critical test items

Modular construction allows for the user to scale up from 64 channels to thousands of channels as required by the application. In order to present users with the ability to have multiple test instruments connected to common test points, VTI Instruments architected the EX1200-4265 as a high density matrix module with a very unique architecture that provides the framework for flexible switch systems. This includes a bypass circuit which allows crossover connections, thus allowing the integrated DMM to make voltage or current measurements without disconnecting cables. 

If the measured signal is differential, isolation and continuity can be made between the high and the low sides, making the EX1200-4265 ideal for cable test and characterization application. Relays capable of switching up to 300 V and up to 2 A are also used to maximize the range of application spaces that can be addressed with this module. 

Each module is made up of a dual 2 x 32 (2-wire) matrix with access to an integrated DMM within the chassis. Larger matrices can be realized by adding additional matrix modules. The EX1208A chassis can accommodate up to 16 modules. Multiple chassis can further expand the matrix without losing synchronous measurements.

To find out more about the EX1200-4265 and how it can make your measurements more efficient and accurate, please visit: http://marketing.vtiinstruments.com/e/12672/65-aspx-searchtext-EX1200-4265/lrmy2/483549647.

About VTI Instruments
VTI Instruments delivers precision modular instrumentation and systems for electronic signal distribution, acquisition, and monitoring, used in the world's most demanding test applications. The company's products and systems are used to monitor and record data that characterizes the physical integrity and performance of aircraft, engines, and other large structures, as well as automate the functional testing of complex electronic systems.

VTI is recognized as an industry leader with a reputation of providing reliable data, first time, every time. A sustained focus on innovation and technology enables VTIs customers to optimize their capital investment through product longevity, while ensuring unmatched measurement integrity and data reliability.

VTI Instruments is a unit of AMETEK, Inc., a leading global manufacturer of electronic instruments and electromechanical devices.

Contact Us:
VTI Sales
sales@vtiinstruments.com
(949) 955-1894