Maintenance Software lets users target unplanned downtime.
Press Release Summary: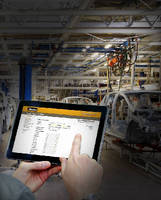 April 30, 2014 - To prevent unplanned downtime, Parker Tracking System (PTS) Pro provides asset tracking and maintenance tools. Asset Management Dashboard lets users schedule inspections/replacements as needed, locate assets when maintenance is required, and record historical inspection details and results. Along with asset criticality settings, transfer, and batch maintenance, features include barcode, metal, or RFID tag generation; material and budgeting; and inspection template customization capabilities.
Parker Hannifin Corporation
Original Press Release
PTS Pro Enables Users to Target Unplanned Downtime with Advanced Maintenance Planning
Press release date: April 21, 2014
CLEVELAND, Ohio — PTS Pro, the latest addition to the Parker Tracking System (PTS) suite of products, gives subscribers a proactive tool against unplanned downtime, while maximizing uptime and profitability.

Developed by Parker Hannifin, the global leader in motion and control technologies, "The new PTS Pro features powerful asset tracking and maintenance tools that extend the capabilities of the original PTS application," said Technology Manager, Bill Sayavich. "Using PTS Pro's advanced scheduling tools, our users can plan for and perform critical service as part of an effective and efficient preventative maintenance strategy."

From the easy-to-use Asset Management Dashboard, users can schedule inspections and replacements as needed, easily locate assets when maintenance is required, and record historical inspection details and results. Subscribers can also transfer visibility of select assets and schedule work by site, type, or asset level.

"PTS Pro enables customers to establish a maintenance schedule based on their individual or corporate requirements, regulatory standards or actual lifespan data of a particular hose assembly," Sayavich said. "Our goal was to create tools to help address product wear before a failure can occur, enabling customers to allocate manpower, stock critical spare parts, and coordinate other resources days, months, or years in advance. This method has been proven to reduce downtime and MRO costs."

Taking a proactive approach to maintenance is crucial to maintaining and even increasing profitability as well as overall employee safety, Sayavich said. While Parker products are built to withstand tough conditions, any product that hasn't been properly inspected or maintained presents an unnecessary risk to people and the environment. PTS Pro helps alleviate those risks by enabling users to establish a standard cadence of custom inspection and replacement activities, and confirming completion of those activities.

The PTS system can generate barcode, metal, or RFID tags for any number of products, including those from other manufacturers. These custom tags can be used to identify part numbers, size, length, components, application data, and other specific information, enabling fast, easy, and exact replacement of parts. New enhanced functions of PTS Pro include:
• Material and budgeting for scheduled services
• Customizable inspection templates
• Asset criticality settings
• Service scheduling and notification
• Asset transfer and batch maintenance

The PTS suite of products includes PTS Essential, PTS Pro, PTS Pro Reader, and PTS Mobile. For more information about PTS, call (440) 943-5700, or visit www.parker.com/pts.

About Parker Hannifin's Hose Products Division
The Hose Products Division is a unit of Parker Hannifin Corporation's Fluid Connectors Group. The Group is headquartered in Cleveland, Ohio, and is the world's leading producer of tube fittings, rubber and thermoplastic hose and fittings, brass fittings and valves, quick-connect couplings and assembly tools.

About Parker Hannifin
With annual sales of $13 billion in fiscal year 2013, Parker Hannifin is the world's leading diversified manufacturer of motion and control technologies and systems, providing precision-engineered solutions for a wide variety of mobile, industrial and aerospace markets. The company employs approximately 58,000 people in 49 countries around the world. Parker has increased its annual dividends paid to shareholders for 57 consecutive fiscal years, among the top five longest-running dividend-increase records in the S&P 500 index. For more information, visit the company's website at www.parker.com or its investor information website at www.phstock.com.

MEDIA CONTACT
Doug Honig
Marketing Services Manager
Email: doug.honig@parker.com
Phone: 440.516.3295