Product News: Test & Measuring Instruments, Sensors, Monitors & Transducers, Materials & Material Processing
Magnetostrictive Liquid Level Probe tolerates harsh locations.
Press Release Summary: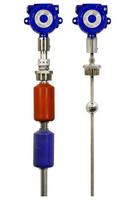 June 14, 2013 - Supplied in explosion-proof housing certified by CSA for Class 1, Div 1 environments, MPX Series is accurate to ±4 mm and includes 2 base sizes with 0.5 and 1.0 in. stems and lengths up to 25 ft. Probe stem withstands forces in turbulent tanks, while floats operate without sticking and install while remaining on stem. With optional second float, single MPX provides both total tank and interface level measurements. Multiple floats are available that fit inside 2 or 3 in. NPT mounts.
Original Press Release
Pinpoint Accuracy and Durability with the MPX Magnetostrictive Liquid Level Probe from Automation Products Group
Press release date: June 6, 2013
Built for harsh and hazardous locations, the MPX Level Probe is very durable and accurate. Optional second float provides interface level measurement.

LOGAN, UT – Automation Products Group, Inc. (APG) introduces the highly accurate MPX Series Magnetostrictive Level Sensors. The robust MPX level probe has an explosion proof housing – certified by CSA for Class 1, Div. 1 environments – and is commonly used in hazardous locations for interface level measurements. The probe stem is built to withstand powerful forces in turbulent tanks, and the floats are specifically designed to operate without sticking and to install easily while remaining on the stem.

Accurate to ±4mm, the MPX magnetostrictive level sensor is ideal for high value liquids, and has an optional second float for interface level measurements. With two floats, a single MPX provides both the total tank and the interface level. For example, the MPX aids the Oil & Gas industry in sensing the oil/water interface in production tanks at an affordable price.

MPX level sensors are available in two different base sizes with 0.5 in. and 1.0 in. stems, and lengths up to 25 ft. (7.62 m). Multiple floats are available that fit inside 2 in. or 3 in. NPT mounts – eliminating the need to remove the floats for installation.

"In the past, level probe sensors were difficult to install. The new MPX magnetostrictive level probe is not only more accurate and affordable, but installs much easier by dropping into an NPT fitting," says Karl Reid, Product Line Manager. "You don't even have to remove the floats."

Outputs include 4-20mA and Modbus RTU. The Modbus version provides a temperature reading and some programmability in addition to level measurement. Mounting options on the MPX magnetostrictive liquid level sensor include NPT, flange, slide fitting, and no fitting at all.

The MPX provides seamless compatibility with APG's Tank Cloud Remote Monitoring System – a cost-effective remote tank level monitoring solution that enables users to monitor remote tanks from anywhere with an internet connection, 24 hours per day, seven days per week, through an easy-to-use online interface. In addition to viewing tank levels, Tank Cloud users can also receive remote alarms on their phone or email, and they can log and export tank level data.

About Automation Products Group
Automation Products Group, Inc. (APG) supplies flexible sensing solutions for measurement applications to many industries, including the water and wastewater, oil and gas, and medical markets. APG specializes in level, pressure, and remote sensing technologies and is known for sensors that perform well in harsh and hazardous conditions. APG has roots in the sensor business spanning more than 35 years.

Automation Products Group, Inc., 1025 W. 1700 N., Logan UT 84321; 1-888-525-7300; (435) 753-7300; fax: (435) 753-7490; sales@apgsensors.com; www.apgsensors.com.

For Lead processing: Email or send all leads to: dougm@apgsensors.com; Doug Moore, APG, 1025 W. 1700 N., Logan, UT 84321. Please identify leads with item code APG524 for fastest lead processing. All inquiries will be sent a copy of the appropriate literature.