Magnetic Drill operates in confined spaces.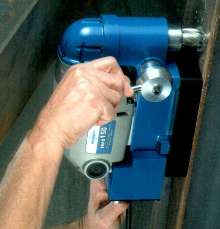 Magnetic Drill operates in confined spaces.
March 20, 2003 - Portable HMD150 incorporates quick-change arbor design with bayonet-style twist and lock tool mounting. Able to cut holes with up to 1 3/8 in. dia through materials to 1 in. thick, product measures 6 ½ x 11 11/16 x 7 13/16 in. Rated 120 V, 50/60 Hz and 8 A, unit includes motor that develops no-load speeds to 450 rpm. Magnetic base has 1,200 lb dead lift rating on 3/8 in. plate and 2165 lb on 1 in. plate, with drill point breakaway limits of 500 and 735 lb, respectively.

(Archive News Story - Products mentioned in this Archive News Story may or may not be available from the manufacturer.)
Original Press release

Hougen Mfg. Inc.
P.O. Box 2005
Flint, MI, 48501 2005
USA



New Magnetic Drill Is Fabricators' Dream
It's small enough to drill in places where even hand held electric drills can't go, yet with the power to cut holes up to 1-3/8" diameter thru materials to 1" thick...two, three, even more times faster than conventional drills and twist drill bits. It is the new, low-profile, lightweight and compact Hougen® HMD150, the latest model to join Hougen Manufacturing's 12-member lineup of innovative portable magnetic drills. Featuring a Quick Release tool mounting system and a height of just 7-13/16" (6-1/2"W x 11-11/16"L), the new HMD150 Portable Magnetic Drill was designed for fast, efficient holemaking in confined spaces. A powerful motor, heavy-duty, high-torque gearing along with the use of Hougen's Rotabroach annular cutters combine to allow for a broad range of applications including general fabrication, plant maintenance and on-site assembly and installation projects.

The HMD150 weighs just 22.7 lb. and has an electric rating of 120V, 50/60 Hz and 8-Amps. The quiet motor operates from any standard 115/120 volt power source and develops 450 no-load rpm's. The gearing ratio complements the motor's power for reliable RPMs and uniform SFM, allowing high feed rates even through long cuts, large diameter holes and tough materials.

The magnetic base has a powerful 1,200 lb. dead lift rating on 3/8" plate and 2165 lb. on 1" plate. Drill point breakaway limits are 500 lb. (3/8" plate) and 735 lb. (1" plate). The unit is equipped with a removable feed handle for ratcheting the feed in extremely close quarters. Simply remove the feed handle assembly by extracting a socket head cap screw revealing a hex stud for attaching a ratchet handle with a 5/8" socket.

Controls include separate magnet engage/disengage and motor spindle on/off switches. As an added safety feature, a switch detects vertical magnetic lift, shuts down the motor should lift of the magnet occur.

The HMD150 has a rigid quill feed, which prevents tool vibration, eliminates gibs, slide/way adjustments and maintenance while providing a constant low profile. Each drill unit is complete with a sturdy plastic carrying case.

In addition, the HMD150 incorporates Hougen's quick change arbor design featuring bayonet-style twist and lock tool mounting for fast changeouts with no tools required. The drill uses the "17,000-Series" Rotabroach Annular Cutters with Quick Release shanks. Because they are hollow and have Hougen's unique and time-proven cutting tooth geometry, the "17,000-Series" cutters outperform conventional holemaking tools (twist drills, spade drills, hole saws), providing longer service life. A 5/8" diameter cutter will drill through mild steel plate of 1/2" thickness in 45 seconds.

Besides the HMD150 model, Hougen products comprise 11 other models of portable magnetic drills, with hole capacities to 3-1/16" diameter and 3" depth of cut, Punch-Proâ"¢ Portable Electro-hydraulic Hole Punchers, plus a wide range of annular cutter series for a variety of applications, including sheet metal and tubing - for portable fabricating equipment as well as stationary machine tools.
---