Product News: Test & Measuring Instruments, Sensors, Monitors & Transducers, Electronic Components & Devices
Machinery Protection Monitor offers advanced display options.
Press Release Summary: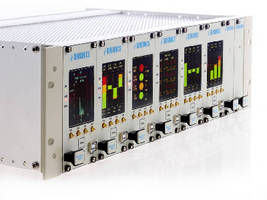 July 23, 2014 - With up to 24 measurement channels in 3U format, Sentry G3 provides machine protection to API670 standard. Intuitive color LCD enables plant engineers to rapidly identify abnormal conditions and manage dynamic behavior of rotating plant. Signal conditioning unit provides vibration, position, and speed parameter trending facilities, including log and view of up to 60 days of data, look-back at trends and alarms, plus download of data for further analysis in Excel.
Original Press Release
New Advanced Display Options for Sentry G3 Take Machinery Protection to a New Level
Press release date: July 17, 2014
Condition monitoring specialists SENSONICS have introduced advanced display options for their successful Sentry G3 machinery protection monitor, the high performance signal conditioning unit.  The latest Sentry G3 system not only provides machine protection to the API670 standard it also offers an intuitive colour LCD display in each module to enable plant engineers to rapidly identify abnormal conditions and better manage the dynamic behaviour of their rotating plant.

The advanced features now include; Vibration, position and speed parameter trending facilities, including log and view of up to 60 days of data, 'look back' at trends and alarms, plus download data for further analysis in Excel. In addition, it is now possible to directly view proximity probe gap and vibration transducer bias voltages, to verify correct transducer operation and calibration.  A single view page for all warning, danger and health alarms provides rapid feedback on the complete module alarm status.

The G3 system offers excellent channel density with up to 24 measurement channels in a 3U format, also each channel can provide independent analogue outputs of current and voltage for DCS connection, in addition to an alarm relay.  Further alarm relay expansion is possible through connection to digital outputs at the rear of the module.

The system is designed for mounting in a custom 19" rack assembly which also contains a dual redundant power supply option.
Sentry G3 provides state-of-the-art protection for the following modes:
Measurement - Absolute bearing and relative shaft vibration, displacement and thrust position, speed, phase and reverse rotation, differential and casing expansion, rod drop and temperature.
Turbine Specialist Measurement - Shaft eccentricity, mark - space differential expansion, rotor to stator air gap.
Flexible Configuration – LPF, HPF, tracking and notch filters, programmable warning and danger alarms, cross channel voting, FTT, harmonic and phase analysis, programmable transducer supply, scalable module hardware with plug-in DSP card, up to 4 channels,
Dual redundant power supply, gateway communications module, USB programmable, alarm defeat and module park and calibration modes.

The additional features incorporated into the latest Sentry G3 system ensures more than just machine protection, providing a set of tools to assist plant engineers to optimise the control and management of their rotating plant.

Further details are available from:
Russell King, Sensonics Ltd,
Berkhamsted, Hertfordshire, UK.
Tel: +44 (0) 1442 876833
Email: sales@sensonics.co.uk 
www.sensonics.co.uk