Product News: Electronic Components & Devices
MOSFETS offer switching speed and on-resistance.
Press Release Summary: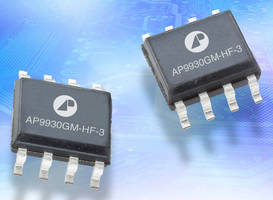 October 22, 2012 - Supplied in SO-8 package that is halogen-free as well as compliant with RoHS and REACH environmental requirements for hazardous materials, AP9930GM-HF-3 quad complementary N- and P-channel enhanced-mode MOSFETs target full bridge applications such as servo and DC motors. Respective performance ratings for N- and P-channel devices include Drain Source Voltage (VDS) of 30 and -30 V, RDS(ON) of 33 and 55 mΩ, and Continuous Drain Current (ID) of 5.5 and -4.1 A.
Original Press Release
New Quad N and P Channel MOSFETS from Advanced Power Electronics Corp Offer Best Combination of Switching Speed, On-Resistance and Price
Press release date: October 1, 2012
San Jose, CA–Advanced Power Electronics Corp. (USA), a leading manufacturer of MOS power semiconductors for DC-DC power conversion applications, today announced new quad complementary N- and P-channel enhanced-mode MOSFETs that target full bridge applications such as servo and DC motors. Simple to drive and with a low on-resistance, the AP9930GM-HF-3 devices are available in a standard SO-8 package commonly used in surface mount industrial designs.

N-channel performance ratings include: Drain Source Voltage (VDS) of 30V; RDS(ON) of 33mΩ; and Continuous Drain Current (ID) of 5.5A. For the P-channel, VDS is -30V, RDS(ON) is 55mΩ and ID is -4.1A. The package is halogen-free and compliant with both current RoHS and REACH environmental requirements for hazardous materials.

Comments Ralph Waggitt, President/CEO, Advanced Power Electronics Corp. (USA): "These new quad MOSFETs provide designers with the best possible combination of fast switching, low on resistance and cost effectiveness."

Full datasheets can be downloaded at http://www.a-powerusa.com/docs/AP9930GM-3.pdf.

About Advanced Power Electronics Corp.
Established in Taiwan in 1998, Advanced Power Electronics Corporation has become a leading supplier of MOS power discretes, IGBTs and Power ICs which enable cost-effective efficient solutions for new and existing power applications. The company's wide range of solutions broadly targets the computing, consumer electronics, display, communications and industrial segments. ISO-approved, Advanced Power Electronics Corp.'s commitment to consistent quality assurance and the increased economies of scale has seen the company increase in revenue - trading profitably each year since its foundation - and it has been ranked as one of the world's top fifteen power MOSFET suppliers by iSuppli.

For further information:
Ralph Waggitt,
President/CEO, Advanced Power Electronics Corp. (USA),
Tel: +1 408-717-4231
Email: rwaggitt@a-powerusa.com
http://www.a-powerusa.com

For press enquiries:
Nick Foot
BWW Communications
Tel.: +44 1491-636393
E-mail: nick.foot@bwwcomms.com