Product News: Controls & Controllers, Welding Equipment & Supplies, Electrical Equipment & Systems
MIG Push-Pull Welding Systems target specific industries.
Press Release Summary: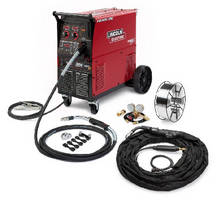 June 6, 2014 - In addition to Magnum® PRO AL air-cooled push-pull gun and aluminum drive roll kits, multi-process POWER MIG® 350MP Trailer Manufacturing One-Pak™ includes SuperGlaze 5356 TM™ 3/64 in. diameter MIG wire specifically developed for aluminum trailer manufacturing industry. Another One-Pak® package, specifically targeted toward aluminum automotive collision repair and fabrication, has same components but includes SuperGlaze 5554 3/64 in. diameter MIG wire instead.
Original Press Release
Lincoln Electric Releases Two New Aluminum MIG Push-Pull Welding System Packages
Press release date: May 29, 2014
POWER MIG® 350MP Push-Pull Systems Target the Truck Trailer Manufacturing and Automotive Repair Markets

Lincoln Electric has announced the introduction of two new aluminum push-pull system packages targeted toward specific industries.

The POWER MIG 350MP Trailer Manufacturing One-Pak™ includes all of the components and wire a fabricator will need to get started for premium push-pull wire feeding capability in trailer manufacturer sheet metal applications. The multi-process POWER MIG 350MP package includes:

Magnum® PRO AL Air-Cooled Push-Pull Gun
Aluminum Drive Roll Kits
SuperGlaze 5356 TM™ 3/64 in. (1.2 mm) dia. MIG (GMAW) wire specifically developed for the aluminum trailer manufacturing industry
Everything in the standard package for steel welding, including a Magnum® PRO 300 push gun, steel drive rolls (for steel, stainless, and silicon bronze wire), gas regulator and hose, work clamp and cable, 115V auxiliary power receptacle, a lockable storage compartment and an integrated rolling undercarriage.

The second, new One-Pak® package, specifically targeted toward aluminum automotive collision repair and fabrication, includes many of the same components as the trailer package, but features a different wire alloy type:

SuperGlaze 5554 3/64 in. (1.2 mm) dia. MIG (GMAW) wire

Each of these targeted aluminum feeding systems take full advantage of the advanced, 3-in-1 multi-process POWER MIG 350MP wire feeder/welder. This synergic welding power offers features single-control setting of simple weld parameters, while at the same time offering access to advanced waveforms and processes developed to deliver enhanced appearance and heat input control on aluminum, including Pulse-on-Pulse® and Power Mode®.

For more information on the POWER MIG 350MP Aluminum One-Paks®, call (888) 935-3877 or visit www.lincolnelectric.com to obtain E7.57.

Lincoln Electric is the world leader in the design, development and manufacture of arc welding products, robotic arc welding systems, plasma and oxy-fuel cutting equipment and has a leading global position in the brazing and soldering alloys market. Headquartered in Cleveland, Ohio, Lincoln has 48 manufacturing locations, including operations and joint ventures in 19 countries and a worldwide network of distributors and sales offices covering more than 160 countries. For more information about Lincoln Electric and its products and services, visit the Company's website at http://www.lincolnelectric.com.                         

Attn:  Magazine Staff – Please send prospect lead inquiries only to Lincoln Electric c/o Ultimate Lead Systems, Inc., P.O. Box 739, Berea, OH  44017.

Media Contacts:
Greg Coleman 
greg_coleman@lincolnelectric.com 
216.383.2462