Logic/Protocol Analyzer features USB-powered design.
Press Release Summary: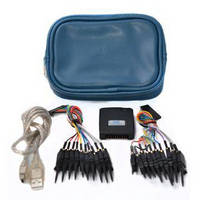 May 17, 2013 - Measuring 40 x 10 x 53 mm, Model ES-DLA-8/16 offers 8 or 16 data acquisition channels, max sampling rate of 60 MHz run length encoding or 4-bit raw, and external clock input. Unit supports rising edge, falling edge, high level, and low level triggering modes for analysis flexibility. Pre-trigger mode enables position of trigger in acquired data to be set at 0, 25, 50, 75, or 100% buffer. When operating as protocol analyzer, ES-DLA-8/16 supports I2C, SPI, UART, and OneWire serial bus protocols.
Original Press Release
EasySYNC Further Expands Portfolio of USB Instruments with Pocket-Sized Logic/Protocol Analyser
Press release date: May 9, 2013
EasySYNC Ltd, a specialist in USB communications and instrumentation systems, introduces the ES-DLA-8/16. This multi-purpose PC-based analysis device is part of the company's USB Instruments product range. It combines logic analyser and protocol analyser functionality in a single lightweight product of compact dimensions. It features multi-channel operation, capture clock (external and internal), plus a broad range of triggering and data capture modes. As it is powered from a USB port, it avoids the need for an external power supply. 

Measuring just 40mm x 10mm x 53mm, the ES-DLA-8/16 offers a choice of 8 or 16 data acquisition channels, a maximum sampling rate of 60 MHz run length encoding (RLE) or 4 bit raw and an external clock input. The triggering modes supported by it are rising edge, falling edge, high level and low level – allowing analysis flexibility to be increased. Furthermore a pre-trigger mode enables the position of the trigger in the acquired data to be set at 0%, 25%, 50%, 75% or 100% buffer. A maximum of 1 billion samples in total can be stored through the supplied EasyLogic software application . When operating as a protocol analyser, the ES-DLA-8/16 supports I2C, SPI, asynchronous serial (UART) and OneWire serial bus protocols.

"The ES-DLA-8/16, along with our latest Stingray oscilloscope/data logger/spectrum analyser, present the industry with a new breed of cost-effective analysis tools that are highly portable and simple to use," states Susan Maxwell, General Manager at EasySYNC, "These instruments give engineers access to a breadth of test functionality without having to invest heavily in the purchasing of multiple pieces of equipment."

The ES-DLA-8/16's firmware is upgradeable via a USB interconnect to maximise convenience for future hardware updates. Logic analyser software, EasyLogic, for both Windows and MAC platforms is available and downloadable royalty free at: http://www.easysync-ltd.com/page/13/software.html

Certified drivers are available for Windows XP, Windows Vista, Windows 7, and Windows 8, both 32-bit or 64-bit operating systems and Mac OS X 10.7~10.8. The instrument is offered in a sleek, attractive enclosure with rubberized mouldings for added ruggedness. Probes and a carrying bag are included too.

The pricing for the ES-DLA-16 is $149.00, while pricing for the ES-DLA-8 is $99.00 for single units.

About EasySYNC
Established in 2001, EasySYNC Ltd is a supplier of communications and instrumentation products with specialist expertise in serial connectivity solutions based on USB, CAN and RS232/RS422/RS485 interfaces. The company's product range includes USB serial adapters, USB-to-CANBus adapters, USB-to-RS232 adapters, USB-to-RS422 adapters, USB-to-RS485 adapters, USB-to-Ethernet converters, USB based oscilloscopes, data loggers and logic analysers. EasySYNC Ltd has sales offices in Europe and North America. http://www.easysync-ltd.com

For further information and reader enquiries:
Susan Maxwell,
EasySYNC Ltd,
7130 SW Fir Loop, Tigard, OR 97223, USA
Tel: +1 503 726-5416
E-mail: sales@easysync-ltd.com