Product News: Electrical Equipment & Systems
Load Switch offers low on-resistance, 4 A max continuous current.
Press Release Summary: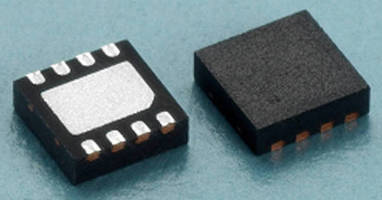 March 28, 2014 - Supplied in 2 x 2 mm, 8-pin DFN package with thermal pad, APE8937-HF-3 is controlled by on/off input and contains one N-channel MOSFET that can operate over 0.8–5.5 V input range and support continuous current up to 4 A. On-resistance is 22 mΩ from VIN=1.8 V to VIN=5.0 V, and 300 Ω on-chip load resistor is included for output quick discharge when switch is turned off. For power-sequencing, rise time is adjustable via external ceramic capacitor on CT pin, which also reduces inrush current.
Original Press Release
New Load Switch with Controlled Turn-On from Advanced Power Electronics Corp. Offers Very Low On-Resistance and 4A Maximum Continuous Current
Press release date: March 1, 2014
San Jose, Ca … Advanced Power Electronics Corp. (USA), a leading Taiwanese manufacturer of MOS power semiconductors for DC-DC power conversion applications, has recently launched a small load switch with controlled turn on and very low on-resistance.

The APE8937-HF-3 load switch contains one N-channel MOSFET that can operate over a wide input voltage range from 0.8V to 5.5V and support a maximum continuous current of up to 4A. On-resistance is very low with only 22mΩ from VIN=1.8V to VIN=5.0V. The switch is controlled by an on/off input, and is capable of interfacing directly with control signals as low as 0.8V.

Additional features include a 300Ω on-chip load resistor for output quick discharge when the switch is turned off. For power-sequencing, the rise time is adjustable by an external ceramic capacitor on the CT pin, which also reduces inrush current.

The APE8937-HF-3 switch is available in an ultra-small, space saving 2mm x 2mm 8-pin DFN package with thermal pad. The device is ideal for use in applications such as telecom systems, industrial systems, set-top boxes, consumer electronics, as well as portable products where selective sub-system power-down can be used to improve efficiency and battery-life. The device is halogen-free and fully RoHS-compliant.

For more information, a datasheet can be downloaded at
www.a-powerusa.com/docs/APE8937-3.pdf

About Advanced Power Electronics Corp.
Established in Taiwan in 1998, Advanced Power Electronics Corporation (APEC) has become a leading supplier of MOS power discretes, IGBTs and Power ICs which enable cost-effective efficient solutions for new and existing power applications. The company's wide range of solutions broadly targets the computing, consumer electronics, display, communications and industrial segments. ISO-approved, Advanced Power Electronics Corp. (USA)'s commitment to consistent quality assurance and the increased economies of scale has seen the company increase in revenue - and trade profitably each year since its foundation - and it has been ranked as one of the world's top fifteen power transistor suppliers by iSuppli.

For further information:
Ralph Waggitt
President/CEO
Advanced Power Electronics Corp. (USA)
Tel: +1 408-717-4231
Email: rwaggitt@a-powerusa.com
http://www.a-powerusa.com

For press enquiries:
Nick Foot
PR-Director
BWW Communications
Tel.: +44 1491-636393
Email: nick.foot@bwwcomms.com