Product News: Electrical Equipment & Systems, Sensors, Monitors & Transducers
Liquid Level Switch meets hygienic requirements.
Press Release Summary: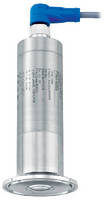 July 1, 2013 - Designed to meet FDA requirements as well as 3A Sanitary Standard Number 74, Liquipoint FTW33 can be used in storage, mixing, and process vessels with or without agitator. Conductivity sensor measures presence of liquids with electrical conductivity greater than 1 µS/cm and provides DC-PNP 3 V switching output. Constructed of 316L SS with PEEK insulation, switch withstands process pressures up to 362.5 psi and temperatures up to 212°F, as well as sterilization processes up to 302°F for 60 min.
Original Press Release
Endress+Hauser Introduces Liquipoint FTW33 Level Switch for Liquids
Press release date: June 21, 2013
Conductivity sensor can be used in storage, mixing and process vessels with or without an agitator, and it meets all international hygiene requirements.

Endress+Hauser releases the Liquipoint FTW33 point level switch for liquids. Designed for hygienic processes, the FTW33 meets FDA requirements as well as 3A Sanitary Standard Number 74. It can be used in pipes; and in storage, mixing and process vessels, with or without an agitator.

The Liquipoint FTW33 conductivity sensor is built for tough applications in the food and beverage market. The Liquipoint FTW33 measures the presence of conductive liquids with an electrical conductivity greater than 1 µS/cm. It also has an optional build-up compensation feature that allows it to switch reliably in heavy build-up and viscous products like tomato paste, honey, molasses, and peanut butter. The sensor can also be used for detecting the foam that commonly occurs in the food industry.

Materials in contact with the process are made of 316L stainless steel with PEEK insulation, making the FTW33 suitable for use in processes that require cleaning and sterilization. The sensor can be used in process pressures from –14.5 to +362.5 PSI, and temperatures up to 212 °F (100 °C). It can also be used in cleaning and sterilization processes to 302 °F (150 °C) for up to 60 minutes, and is resistant to typical cleaning agents. The sensor has a DC-PNP 3V switching output when it can be used for point level. These signals are typically used for overfill and high level detection, or for low level detection to prevent a pump from running dry.

For more detailed technical information on the Liquipoint FTW33 point level switch, please visitthe product page at: http://www.us.endress.com/liquipoint-ftw33

About Endress+Hauser
Endress+Hauser is one of the world's leading suppliers of measuring devices, services and solutions for industrial process engineering. In 2011, the company group recorded sales of approx.1.9 billion dollars with more than 10,000 employees. Endress+Hauser supplies sensors, devices, systems and services for level, flow, pressure and temperature measure¬ment as well as liquid analysis and measured value recording. The company supports its customers with automa¬tion, logistical and IT services and solutions.

Contact: Crystal Abrell
Market Content Development Manager
Endress+Hauser, Inc.
Phone: 317-535-1306 (office) 317-439-6426 (mobile)
Fax: 317-535-2171
crystal.abrell@us.endress.com
www.us.endress.com