Product News: HVAC, Sensors, Monitors & Transducers
Liquid Flow Sensor measures flow rates from 0-40 mL/min.
Press Release Summary: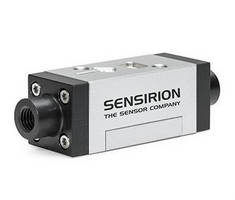 February 28, 2014 - Measuring 18 x 18 x 59 mm, Model LS32-1500 offers response time of 30 ms. Unit features stainless steel, PTFE, and PEEK wetted materials for optimized chemical resistance, making it suitable for biomedical applications, such as diagnostic analyzers. Sensor is completely non-invasive; MEMS chip is located on outer wall of capillary and measures through wall of this channel. Other applications include fuel cells, dosage control, and industrial automation monitoring.
Original Press Release
Chemically-Resistant Sensor for Low Liquid Flow Rates
Press release date: February 27, 2014
Sensirion AG (Switzerland), the leading manufacturer of digital microsensors, is ex-panding its range of liquid flow sensors for measuring low flow rates. The new LS32-1500 liquid flow sensor is designed for flow rates of 0-40 ml/min, extending the range of potential application areas over the successful LG16-series. A completely redesigned housing enables a compact size of 18x18x59 mm and ensures mechanical robustness. Its fast response time of 30 ms, excellent repeatability and outstanding chemical resistance makes the sensor ideal for use in biomedical applications, such as diagnostic analyzers. The LS32-1500 sensor is highly versatile and suitable for use in fuel cells, for example, as well as a wide range of applications in dosage control and industrial automation monitoring. The sensor is completely non-invasive; the MEMS chip is located on the outer wall of a capillary and measures through the wall of this channel (US Pat. 6,813,944).

The wetted materials are composed exclusively of high-performance stainless steel, PTFE and PEEK, which ensure outstanding biocompatibility and chemical resistance. Customized solutions (e.g. a downmount version for manifolds) based on the LS32-series are also possible. The LS32-1500 liquid flow sensor offers a cost-effective, compact and reliable solution for the measurement of low flow rates and is an excellent addition to the range of high quality products from Sensirion AG.
For more information, go to www.sensirion.com/ls32.

About Sensirion
Sensirion AG, headquartered in Staefa, Switzerland, is the world's leading manufacturer of digital microsensors and systems. The product range includes humidity and temperature sensors, mass flow controllers, gas and liquid flow sensors, and differ-ential pressure sensors. An international network with sales offices in the USA, Germany, China, Japan and Korea supplies international OEM customers with tailor-made sensor system solutions for a vast range of applications. Among other things, these include analytical instruments, consumer goods and automobiles, as well as the medical and HVAC industries. One of the hallmark features of Sensirion products is the use of patented CMOSens® Technology. CMOS-based sensor elements and systems permit intelligent system integration, including calibration and a digital interface. Sensirion's credentials as a reliable OEM supplier are underscored by its ISO/TS 16949 certification.

Contact: www.sensirion.com,  info@sensirion.com,  Tel. +41 44 306 40 00, Fax +41 44 306 40 30