Linear Motor Feedback System targets high-end applications.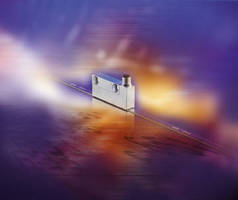 Linear Motor Feedback System targets high-end applications.
November 23, 2009 - Absolute, noncontact TTK70 Motor Feedback System delivers measuring lengths up to 4,000 mm, resolution of less than 1 µm, and system accuracy of less than 10 µm, at operating speeds up to 10 m/sec. Rated for operation in temperatures of 30-85°C, it features HIPERFACE® interface that transmits position values to evaluation electronics of linear drive. Unit consists of read head and magnetic tape with magnetic code that forms 10 mm wide measuring scale.

(Archive News Story - Products mentioned in this Archive News Story may or may not be available from the manufacturer.)
Original Press release

SICK STEGMANN, INC.
7496 Webster Street
Dayton, OH, 45413
USA



Boost Linear Drive Performance with New Absolute and Turbo-Fast Motor Feedback System from SICK|STEGMANN


Most compact linear motor feedback system with HIPERFACE® interface delivers the precision, speed, dynamics, rigidity and quality control demanded in high-end applications

DAYTON, OH - SICK STEGMANN, INC. introduces the TTK70 Motor Feedback System. The TTK70 is an absolute, non-contact linear measuring system that delivers measuring lengths up to 4,000 mm, resolution of <1 µm and system accuracy of <10 µm, at operating speeds up to 10 m/s. The result is precise and highly reliable absolute position determination for linear motors in a diverse range of applications. The TTK70 motor feedback system is rated for operation in temperatures ranging from -30...+85°C. It carries the CE mark and is RoHS compliant.

"The development of the TTK70 is a direct result of the market trend towards increased use of direct drives, and its magnetic principle of operation offers clear advantages over optical linear systems in terms of price, susceptibility to contamination and overall reliability," William Shatto, Application Engineer.

The TTK70 consists of a read head and a magnetic tape featuring a magnetic code that forms the measuring scale - 10 mm wide, and up to 4,000 mm long. The code consists of an incremental and an absolute track (twin-track tape). Absolute position values are calculated by the read head first detecting the absolute starting position during start-up of the linear motor. All further positions of the drive are determined via the incremental position on the magnetic track, i.e. sine/cosine signals. The values are transmitted via the HIPERFACE® interface to the evaluation electronics of the linear drive - a market-standard method of communication that, for the first time ever via the TTK70, is now available for linear measuring systems. The result is an interface standard for all common servo drives, that covers all applications, with only one signal type.

The robust metal housing of the read head offers IP65 protection, has two mounting holes designed for high tightening torques and, even with the plug connection, is hardly bigger than a matchbox - making it the smallest system of its kind. Inside, the TTK70 features the latest in sensor and evaluation technology. The sensor PCB, which is aligned with the measuring plane, is equipped with Hall sensors on two parallel tracks. When installed their placement coincides with the position of an incremental and an absolute track on the magnetic tape.

SICK-STEGMANN is currently the only supplier worldwide that is able to offer to drive manufacturers both rotary and linear motor feedback systems with an integrated HIPERFACE® interface, popular in applications such as erosion machines, handling systems in semiconductor production, automatic assembly and placement machines, vertical lifting systems, pick and place applications in electronic production, or the food industry.

SICK STEGMANN, INC. is a wholly owned subsidiary of SICK AG in Waldkirch, Germany.

SICK|STEGMANN is a world leader in the design and manufacture of incremental, absolute and linear encoders, as well as motor feedback systems.

SICK STEGMANN, INC., 7496 Webster Street, Dayton, OH 45414; (800) 811-9110; (937) 454-1956; fax: (937) 454-1955; sales@stegmann.com; www.stegmann.com.

---