Product News: Electrical Equipment & Systems
Lightweight Internal Fan Alternators withstand high temperatures.
Press Release Summary: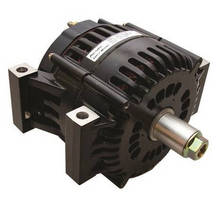 July 14, 2014 - Meeting heavy truck and school bus fleet aftermarket requirements, AVi2800 carries temperature rating of +125°C and features streamlined fan design that helps minimize weight. Internal fan alternator provides 190 A, which enables optimized power delivery at idle. Installed via positive and negative wire connections and J180 mounting pad configurations, product is remote sensing capable, ground isolated, and e-coated for protection from corrosion, humidity, and moisture.
Original Press Release
New Prestolite Electric AVi2800 Internal Fan Alternators Offer 33% Less Weight, 30 Additional Amps and Higher Temperature Rating
Press release date: July 9, 2014
Arcade, New York, USA – Prestolite Electric Incorporated & Leece-Neville (www.prestolite.com) (Prestolite), an ISO 9001/TS-16949:2009 and ISO 14001:2004 certified global manufacturer of heavy duty alternators and starter motors, has announced the global market introduction of the AVi2800 internal fan alternator for heavy truck and school bus fleet aftermarket requirements.

The Prestolite AVi2800 features a streamlined fan design which offers 33% less weight than any of its antecedents. This new internal fan alternator is also offered with an expanded temperature rating to +125°C. These improvements significantly optimize AVi2800 cooling efficiencies, particularly within higher temperature environments.

In addition, the new AVi2800 includes an additional 30 amps (190 amps, as compared to 160 amps for legacy models), allowing it to provide substantially more power at idle. Units are also remote sensing capable, ground isolated and e-coated for enhanced protection from corrosion, humidity and moisture. They are easily installed via positive and negative wire connections and J180 mounting pad configurations.

The Prestolite AVi2800 internal fan alternator is ideal for high-performance aftermarket retrofit upgrades, particularly within older model school buses and heavy trucks, or in applications where weight reduction, higher temperature and higher power are target goals. Quantities of the new AVi2800 are also now available for immediate customer order as "A" stock from the company's Florence, Kentucky-based distribution center.

For more information about the AVi2800 internal fan alternator, or other heavy duty alternator and starter motor products available from Prestolite Electric Incorporated & Leece-Neville, please visit www.prestolite.com.

Link to Product Page:
http://www.prestolite.com/pgs_products/specs.php?item_detail_id=39746&item=AVI160P2012&product=Alternator