Product News: Electrical Equipment & Systems, Electronic Components & Devices
Lightweight Cable Assemblies exhibit minimal insertion loss.
Press Release Summary: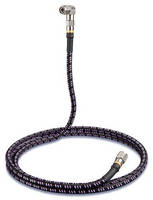 July 18, 2014 - GORE-FLIGHT™ Microwave Assemblies, 6 Series, deliver respective typical and installed insertion loss of 0.198 and 0.219 dB/ft at 18 GHz to ensure reliable performance for life of system. Products maintain consistent impedance of 50 Ω ±1 Ω, providing typical VSWR characteristics of 1.22:1 typ through max frequency of 18 GHz and eliminating insertion loss stack-up issues when assemblies are cascaded or routed through airframe bulkheads. Construction withstands installation challenges.
W. L. Gore & Associates Cable & Assemblies
Original Press Release
Gore-Flight(TM) Microwave Assemblies, 6 Series: New Lightweight Cable Solutions with Lowest Insertion Loss Before and After Install
Press release date: July 14, 2014
LANDENBERG, PA -- W. L. Gore & Associates, Inc. (Gore) has introduced new GORE-FLIGHTTM Microwave Assemblies, 6 Series – lightweight cable solutions that deliver the lowest insertion loss before and after installation, ensuring reliable performance for the life of the system. The robust construction of these assemblies reduces total costs by withstanding the challenges of installation, reducing costly production delays, field service frequency, and the need for purchasing replacement assemblies. These lightweight assemblies improve fuel efficiency and increase payload.

Physical damage to the cable assembly during installation can result in impedance changes. Compared to alternative airframe assemblies, GORE-FLIGHTTM Microwave Assemblies, 6 Series maintain a consistent impedance of 50 ± 1 ohms, providing excellent VSWR characteristics and eliminating insertion loss stack-up issues when assemblies are cascaded or routed through airframe bulkheads.

The 6 Series has been qualified to the most stringent specifications for airframe assemblies, with proven compliance with MIL-T-81490 requirements. In addition, Gore has designed a Cable Installation Simulator to evaluate the stress of installation on microwave airframe assemblies. The simulator enables Gore to evaluate the electrical performance of various cable assemblies after installation.  "With GORE-FLIGHTTM Microwave Assemblies, 6 Series, a fit-and-forget philosophy is now a reality — providing the most cost-effective solution that ensures mission-critical system performance for military and civil applications," said Jim Foreman, product manager at Gore.

Gore's Cable Installation Simulator uses a series of mandrels, routing guides and an abrasion bar to replicate the conditions a cable assembly experiences while being routed during installation in an aircraft. Use of the Installation Simulator gives aircraft manufacturers and installers evidence that their assemblies will provide the highest possible level of electrical performance after installation. And they can be assured that the assemblies will continue to perform reliably throughout the service life of the aircraft.

Typical applications for GORE-FLIGHTTM Microwave Assemblies, 6 Series include: airborne electronic surveillance/counter measures; radar warning (electronic defense) systems; missile approach warning systems; radar interconnects; electronic/signal intelligence; and navigation/communication systems.  Gore controls the entire GORE-FLIGHTTM Microwave Assemblies, 6 Series manufacturing process from purchasing raw materials, to creating and applying the proprietary dielectric material, through testing and shipping the final cable assembly. This unsurpassed vertical integration allows Gore the complete control necessary to consistently achieve tight specifications consistently. This process includes testing 100 percent of the assemblies for vapor leakage, dielectric withstanding voltage, VSWR, insertion loss, impedance, and velocity of propagation — ensuring that every assembly will deliver the highest-quality performance required for today's civil and military aircraft.

For more information on GORE-FLIGHTTM Microwave Assemblies, 6 Series, visit gore.com/electronics.  For more on Gore's Cable Installation Simulator, go to gore.com/simulator to download the white paper or contact a Gore applications specialist at electronics.usa@wlgore.com.

About W. L. Gore & Associates, Inc.
Gore is a technology-driven company focused on discovery and product innovation. Well known for waterproof, breathable GORE-TEX® fabric, the company's portfolio includes everything from high-performance fabrics and implantable medical devices to industrial manufacturing components and aerospace electronics. Founded in 1958 and headquartered in Newark, Del., Gore posts annual sales of more than $3.2 billion and employs approximately 10,000 associates with manufacturing facilities in the United States, Germany, the United Kingdom, Japan and China, and sales offices around the world. Gore is one of a select few companies to appear on all of the U.S. "100 Best Companies to Work For" lists since the rankings debuted in 1984. The company also appears regularly on similar lists around the world. Learn more at gore.com.