Product News: Vision Systems, Optics & Photonics
Light Engines feature lifetimes over 20,000 hr.
Press Release Summary: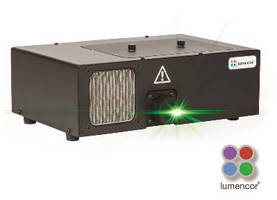 July 16, 2014 - Offering solid-state alternative to traditional mercury-containing arc lamps, Lumencor Light Engines require zero warm up or cool down periods. SOLA Light Engines, producing continuous white light from 380–680 nm, offer intensity range of 40–50 W/cm² and are suited for life sciences applications, including fluorescence microscopy. Featuring 6 individually selectable sources, Spectra-X Light Engines include 7 bandpass filters, one for each color source, plus one extra.
Original Press Release
Lumencor Light Engines Feature Lifetimes Over 20,000 Hours
Press release date: July 15, 2014
Lumencor Light Engines Feature Lifetimes Over 20,000 Hours
Provides solid-state alternative to traditional mercury-containing arc lamps

Barrington, N.J. — Edmund Optics® (EO), the premier provider of optical components, introduces new Lumencor Light Engines. These powerful solid state sources are bright, mercury-free and require zero warm up or cool down periods to provide a wide variety of illumination solutions. They offer an excellent solid-state alternative to traditional mercury-containing arc lamps. Lumencor Light Engines feature a low cost of ownership, as their expected lifetimes are outstanding -- over 20,000 hours. They offer high energy efficiency and do not require replacement bulbs or light guides for superior cost savings.

SOLA light engines ideal for life sciences applications
SOLA Light Engines produce continuous white light from 380-680 nm and are ideally suited for a wide variety of life sciences applications, including fluorescence microscopy. With an intensity range of 40-50 W/cm2, the SOLA SM is manually operated with an on/off foot petal or switch, while the SOLA SE is electronically controlled using standard microscopy software.

Spectra-X offers ultrafast switching of six independent color bands
Spectra-X Light Engines include six individually selectable sources to cover a wide spectral range for applications that require powerful, versatile, stable, efficient and reliable illumination. Spectra-X Light Engines are provided with seven bandpass filters - one for each color source, plus an extra, with additional filter paddles and filters available separately.

A variety of Scope Collimators are available
Lumencor Light engines are equipped with a 3 mm diameter port for a liquid light guide for additional versatility. Scope Collimators are available in Leica, Nikon, Olympus and Zeiss compatible models, as well as a converter for 5 mm diameter liquid light guides. Lumencor Light Engines and Accessories are in-stock and available for immediate delivery for fast turnaround and excellent value.

About EO:
Edmund Optics® (EO) is a leading producer of optics, imaging, and photonics technology for R&D, electronics, semiconductor, pharmaceutical, biomedical, and military markets around the globe. EO is the world's largest supplier of off-the-shelf optical components. Customers can purchase items by contacting EO at 1-800-363-1992, via the catalog, or via the website at www.edmundoptics.com

Company Contact:
Kirsten Bjork-Jones
Director Global Marketing Communications
Edmund Optics®, Inc.
101 East Gloucester Pike
Barrington, NJ 08007 U.S.A.
Phone: 1-800-363-1992
Fax: 1-856-573-6295
email: kbjork-jones@edmundoptics.com

European Contact:
Agnes Huebscher
Director European Marketing
Edmund Optics
Zur Giesserei 8
76227 Karlsruhe, Germany
Tel.:   +49 (0)721-62737-38
Fax:   +49 (0) 721 6273750
E-Mail:   AHuebscher@edmundoptics.de