Laser Scanners maximize machine safety.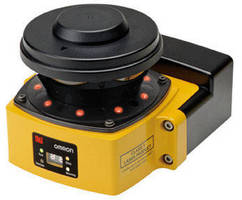 Laser Scanners maximize machine safety.
March 22, 2013 - Reporting status and measurement data via EtherNet/IP™, STI OS32C-DM Safety Laser Scanners help keep machines up and running by enabling users to check operating status, analyze cause of emergency stop, and take corrective action. Scanners provide configurable object resolutions of 30, 40, 50, and 70 mm to accommodate hand and arm detection applications. Consuming 5 W of power, scanners feature 270° detection angle and offer up to 70 sets of configurable detection zones.

Original Press release

Omron Electronics, LLC
1 Commerce Dr.
Schaumburg, IL, 60173
USA



Maximize Machine Safety and Productivity with EtherNet/IP(TM)-enabled OS32C-DM Safety Laser Scanners from OMRON Automation and Safety


Industry's first safety laser scanners to deliver status and measurement data reporting via EtherNet/IP to maximize efficiency and minimize downtime

SCHAUMBURG, IL – OMRON Automation and Safety introduces the STI OS32C-DM Safety Laser Scanner. The latest addition to the award winning family of STI Type 3 safety laser scanners, these are the industry's first safety laser scanners to report status and measurement data via EtherNet/IP™. This helps keep machines up and running by enabling users to check the operating state and analyze the cause of an emergency stop via LAN, and take quick corrective action, even in large-scale applications with multiple scanners. Same day shipping is available on select models.

"These compact safety laser scanners can now be monitored over Ethernet/IP and can provide system status, zone status and measurement data information to most devices using the Ethernet /IP protocol. In addition, the scanner has been conformance tested to the ODVA (Open Devicenet Vendor Association) standard ensuring connectivity and trouble-free operation to other ODVA compliant devices such as PLCs and HMIs," says Matt Dodds, Product Marketing Manager - Safety. "With its data reporting capabilities via Ethernet/IP, information about the state of a scanner can be quickly determined over a network to maximize efficiency and minimize downtime."

These simple and versatile STI safety laser scanners are available with new user tools that help speed customer development time and conserve engineering resources. Easy to use function blocks are ideal for simple PLC controlled status and data updates. A simple and effective method of integrating the status and measurement data to a PLC, these function blocks can be used in the PLC code to automatically configure the PLC to process and display the information. Software examples are available for large process PC controlled applications where large amounts of data are logged to determine product quality, consistency or process variations.

The updated configuration tool now provides a "maintenance access level" that enables the user to make only non-safety related programming changes and employs a "non-safety checksum" for easier re-commissioning when non-safety changes are made. A new "zone coordinate import/export" function allows users to modify the shape and size of a monitoring zone by importing coordinates from a text file.

All STI OS32C safety laser scanners provide configurable object resolutions of 30, 40, 50 and 70 mm to accommodate hand and arm detection applications. They feature a compact 104.5 mm profile, light 1.3 kg weight and consume just 5 W power (3.75 W in standby mode). Combined with innovative features that include up to 70 sets of highly flexible and easily configurable detection zones, the OS32C is easy to handle and install and delivers the versatility needed to solve diverse presence detection and collision avoidance application needs. The status display and eight patented Individual Sector Indicators also enable users to determine at a glance the unit's operating state and error codes, and assess the direction of an intrusion.

Some of the most significant benefits of the OS32C family of Omron STI safety laser scanners include:
• Faster and easier equipment commissioning and troubleshooting with Patented Individual Sector Indicators
• Up to 4 times faster MTTR (Mean Time To Repair) than other safety laser scanners, with lower maintenance cost and manufacturing down time cost from equipment damage
- Using the unique Memory Module, a maintenance technician can get the manufacturing line running again – without using a computer
• System monitoring over LAN via the integrated Ethernet Port
• Low profile equipment designs thanks to the  small footprint, which is particularly significant in material handling applications
• Lowest power consumption, which is perfect for battery powered mobile applications

"STI safety laser scanners feature an impressive 270° detection angle that enables a single scanner to provide presence detection, including two warning zones and one safety zone, on two sides of a machine. Its small size also means that it can even be used inside a machine," explains Dodds. "Installed vertically, they serve as a complete intrusion detection solution. The unit's innovative Reference Boundary Monitoring function constantly monitors reference points and turns off the safety outputs when a shift in its physical position is detected. This prevents unauthorized mounting modifications to the laser scanner."

STI OS32C safety laser scanners are also a robust and flexible collision avoidance solution that can provide front/rear monitoring, or 270° monitoring, in AGV applications. A lightweight and compact body makes it easy to install, and low power consumption minimizes battery load. For complex AGV tracks, up to 70 zone set combinations can be set, each with one safety zone of up to 3 m and two warning zones of up to 10 m. The two warning zones can be set to support various purposes, such as warning sound and speed control. Additionally, the measurement data now available via EtherNet/IP further enhances AGV application performance.

Omron's simplified I/O wiring method for STI OS32C safety laser scanners requires fewer inputs to configure multiple zones to speed installation and significantly reduce the potential for wiring errors. And because each safety laser scanner's configuration is stored in the I/O block, should the sensor ever become damaged it can quickly be replaced with no reprogramming needed. 

STI safety laser scanners are a 2010 Plant Engineering magazine Product of the Year winner, and a 2011 Design News "Golden Mousetrap" finalist.

About OMRON Automation and Safety
At OMRON Automation and Safety our mission is "to keep people safe and highly productive on the factory floor."

We accomplish this by leveraging our world-renowned Omron STI safety products and solutions brought to machine builders and users through an international distribution channel that includes more than 100 factory-trained distributors in the United States and Canada alone. These skilled partners have access to an unmatched family of machine safety solutions and application expertise to solve the toughest automation challenges. In short, OMRON Automation and Safety is the leading global provider of machine safety and automation solutions, with the know-how to recommend and apply unbiased solutions for our customers whenever and wherever they need us.

For more information contact OMRON Automation and Safety, The Americas Headquarters, Schaumburg, IL USA; 847-843-7900; 800-556-6766; sales@sti.com; www.sti.com.

---


Start Your

Free


Subscription to


Industry Market Trends

.