Product News: Vision Systems, Robotics, Optics & Photonics
Laser Beam Profiling Camera features sensitive image array.
Press Release Summary: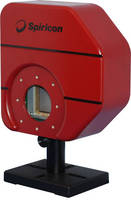 July 25, 2014 - Used to measure both pulsed and CW (continuous wave) lasers, from 13–355 nm and 1.06 to >3,000 µm, Pyrocam™ IVs GigE-compatible, pyroelectric laser beam profiling camera features 160 x 160 pixel image array that can profile beams up to ½ in. without requiring reduction optics. Integral focal plane chopper is included for CW beams and thermal imaging, while 14-bit ADC provides reliable measurement and analysis. SNR of 1000:1 means beams of 30 mW/cm² are readily visible.
Original Press Release
Ophir-Spiricon's Pyrocam IVs, Pyroelectric Laser Beam Profiling Camera, Features Sensitive Image Array for 2D/3D Viewing of Long Wavelengths
Press release date: July 21, 2014
Ophir Pyrocam — North Logan, UT - Ophir Photonics, global leader in precision laser measurement equipment and a Newport Corporation brand, today announced the PyrocamTM; IVs, the newest member of the PyrocamTM family of pyroelectric laser beam profiling cameras. The Pyrocam IVs is the next generation of the popular Pyrocam III. It features a more sensitive, 160 x 160 pixel image array that can profile beams up to ½-inch (12.8 mm) without the need for reduction optics. The Pyrocam IVs measures both pulsed and CW (continuous wave) lasers, from 13 to 355 nm and 1.06 to >3000 µm. An integral focal plane chopper is included for CW beams and thermal imaging.

"The Pyrocam cameras are the only way to see 3D views of long wavelength lasers, CO2 and beyond," said Gary Wagner, General Manager (U.S.), Ophir Photonics. "The increased sensitivity and longer wavelength range of the Pyrocam IVs make it ideal for the burgeoning terahertz lasers market. Terahertz laser power is increasing in leaps and bounds for a wide range of applications, from chemical analysis and security scanning to medical imaging and telecommunications."

The Pyrocam IVs allows you to see the beam for dynamic alignment and proper operation of CO2 and telecom NIR lasers, as well as other infrared sources out to the Far IR THz range. For high-speed applications, it includes an interface to GigE (Gigabit Ethernet) cameras. A 14-bit A/D converter provides reliable measurement and analysis of both large signals and low level signals in the wings of the laser beam. A signal to noise ratio of 1000:1 means beams of 30 mW/cm2 are easily visible.

The Pyrocam IVs ships with BeamGage®, the company's advanced laser beam analysis software. This provides 2D and 3D viewing of beams and includes the algorithms and calculations needed to make accurate, ISO approved, NIST-traceable beam measurements. Measurements include total and peak power/energy, peak and centroid location, beam diameter, and X/Y knife edge beam widths. The patented Ultracal® baseline algorithm in BeamGage® eliminates background noise, ensuring the highest degree of measurement accuracy.

Availability & Pricing
The Pyrocam IVs pyroelectric laser beam profiling camera is available now. OEM prices available on request.

Pyrocam Data Sheet: http://bit.ly/1wbbIoQ

About Ophir Photonics
With over 30 years of experience, Ophir Photonics, a Newport Corporation brand, provides a complete line of instrumentation including power and energy meters, beam profilers, spectrum analyzers, and goniometric radiometers. Dedicated to continuous innovation in laser measurement, the company holds a number of patents, including the R&D 100 award-winning BeamTrack power/position/size meters and Spiricon's Ultracal™, the baseline correction algorithm that helped establish the ISO 11146-3 standard for beam measurement accuracy. The Photon family of products includes NanoScan scanning-slit technology, which is capable of measuring beam size and position to sub-micron resolution. The company is ISO/IEC 17025:2005 accredited for calibration of laser measurement instruments. Their modular, customizable solutions serve manufacturing, medical, military, and research industries throughout the world. For more information, visit http://www.ophiropt.com/photonics

Sales Inquiries, sales@us.ophiropt.com

For further information contact:
Gary Wagner, General Manager
Ophir Photonics (U.S.)
3050 North 300 West
North Logan, UT 84341
Tel: 435-753-3729
E-mail: gary.wagner@us.ophiropt.com
Web: http://www.ophiropt.com/photonics

PR Office:
Shari Worthington, President
Telesian Technology Inc.
49 Midgley Lane
Worcester, MA 01604 USA
+1 508.755.5242
Fax: +1 508.795.1636
Email: sharilee@telesian.com