Product News: Material Handling & Storage, Packaging Equipment
Large-Format Dispenser accommodates range of substrate sizes.
Press Release Summary: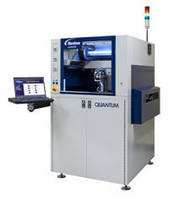 February 20, 2014 - Suited for SMT, PCB packaging, and microelectronics assembly applications, Quantum™ Q-6800 offers 423 x 458 mm dispense area for operational flexibility. Continuous Path software optimizes dispense-head motion to conserve time and increase units per hour for jetted line applications. Along with ability to dispense precise volumes of fluid in dots, lines, and patterns, features include Nordson ASYMTEK process controls and optional dual-action or dual-simultaneous valve configurations.
Original Press Release
Nordson ASYMTEK'S New Quantum System Delivers Fluid Dispensing Refinement in a Large-Format Dispensing Platform
Press release date: February 12, 2014
Accommodates wide range of substrate sizes, fluids, and processes for SMT, PCB packaging, and microelectronics assembly applications

IPC APEX Booth #1937

Carlsbad, CA, USA – Nordson ASYMTEK, a Nordson company (NASDAQ: NDSN), a leader in dispensing, jetting, and coating equipment and technologies, introduces the Quantum™ Q-6800 high-performance, large-format dispensing system for SMT, PCB packaging, and microelectronics assembly applications. Quantum's dispense area of 423 x 458 mm handles a wide range of substrate sizes and is large enough so the dispense area isn't compromised even with dual valve configurations, enabling flexibility in the dispensing process. The patent-pending Continuous Path software feature optimizes dispense-head motion to save time and increase units per hour (UPH) for jetted line applications, while Nordson ASYMTEK's advanced, patented process controls ensure accurate and reliable dispensing results that meet the technology and manufacturing needs of demanding SMT and electronics assembly operations. The optional dual-action or dual-simultaneous valve configurations maximize high-throughput applications and can reduce dispensing time by up to 50%. Manufacturers can dramatically increase yield and throughput.

"Nordson ASYMTEK has taken its large-format dispensing platform and added to it the features, options, and closed-loop process controls that are found on its smaller, precision-dispensing system platforms," explained Brian Chung, Nordson ASYMTEK product manager. "The Quantum system gives manufacturers a stable, robust, time-tested platform to use for large substrates or parts and a versatile and flexible system that can be configured in numerous ways to increase speed and throughput for microelectronics assembly operations."

Features and benefits of the Quantum Series system include:
Dispenses precise volumes of fluid in dots, lines and patterns
Continuous Path Motion jetted line dispensing for improved UPH
Laser Height Sensor for real-time, fast, non-contact dispense height measurement
Digital Vision System that incorporates high-brightness, three-color RGB LEDs for superior image contrast and detection
Patented Calibrated Process Jetting (CPJ™) software that automatically compensates for changes in fluid viscosity, ensuring precise volumetric repeatability and optimized line speed for closed-loop fluid dispensing reliability, and
Patented Mass Flow Calibration (MFC) that uses weight-controlled dispensing and automatic calibration to continuously deliver consistent fluid amounts, especially for valve and pump dispensing.

The Quantum platform supports most Nordson ASYMTEK jets, pumps, and valves, including the DispenseJet® DJ-9500 and NexJet® NJ-7 jet valves. From initial process development through full-scale production you are supported by Nordson ASYMTEK's experienced worldwide engineering, applications development, and technical service network.

Demonstrations of the Quantum Q-6800 series can be seen at IPC APEX 2014, Las Vegas, NV from March 25-27 at booth #1937. For more information or to see a demonstration contact Brian Chung at info@nordsonasymtek.com or watch the video of the Quantum in action on our website at www.nordsonasymtek.com/quantum.

About Nordson ASYMTEK

Nordson ASYMTEK, a world leader in precision automated fluid dispensing, conformal coating, and jetting technologies, designs and manufactures dispensing and coating systems, supported by an award-winning global applications and service network. Celebrating over 30 years in business, Nordson ASYMTEK is continually recognized for innovative equipment and excellent service, and is ISO 9001 certified. The company offers advanced dispensing solutions for precision assembly processes, including semiconductor packaging, printed circuit boards, LEDs, flat panel displays, medical and biotechnical devices, and solar and photovoltaic products. To find out more, visit www.NordsonASYMTEK.com, Facebook.com/NordsonASYMTEK  or Twitter.com/NordsonASYMTEK. 

About Nordson Corporation

Nordson Corporation (Nasdaq: NDSN) is one of the world's leading producers of precision dispensing equipment that applies adhesives, sealants, coatings and other materials to a broad range of consumer and industrial products during manufacturing operations. The company also manufactures equipment used in the testing and inspection of electronic components as well as technology-based systems for curing and surface treatment processes. Headquartered in Westlake, Ohio, Nordson has direct operations and sales support offices in more than 30 countries.

For more information contact:
Nordson ASYMTEK Headquarters:
Roberta Foster-Smith
Tel: +1.760.431.1919
Email: roberta.foster-smith@nordsonasymtek.com

Agency Contact:
Andrea Roberts
A R Marketing, Inc.
Tel: +1.858.451.8666
Cell: +1.858.204.9584
Email: andrea@armarketinginc.com

International Offices:
Headquarters:
2747 Loker Ave. West
Carlsbad, CA 92010 USA
Tel: +1 760 431 1919
www.nordsonasymtek.com
China: +86 21 3866 9166
www.nordsonasymtek.com/cn
Europe: +31 43 352 4466
India: +91 44 4353 9024
Japan: +81 3 5762 2801
www.nordsonasymtek.com/jp
Korea: + 82 31 765 8337
www.nordsonasymtek.com/kr
Southeast Asia: +65 6796 9515
Taiwan: +886 2 2902 1860