Laboratory Software Wizard aids automated PCR set-up.
Press Release Summary: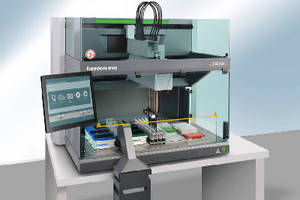 March 5, 2014 - Offered as Freedom EVOware® add-on, TouchTools™ PCR Wizard facilitates set-up of applications, including end-point, real-time, and multiplex PCR, sequencing, genotyping and gene expression, and pathogen/mutagenesis detection. Touchscreen operation and step-by-step instructions guide users through set­­up process, allowing sample information to be entered manually, imported from file, or identified by barcode scanning. Users can optimize 96- and 384-well PCR plate layouts to meet workflow needs.
Original Press Release
New TouchTools(TM) PCR Wizard Aids Automated PCR Set-up
Press release date: February 25, 2014
Tecan has launched the TouchTools™ PCR Wizard, an easy-to-use Freedom EVOware® add-on offering straightforward automation of PCR reaction set­­up on Freedom EVO® platforms. This new tool simplifies the set-up of applications – including end-point, real-time and multiplex PCR, sequencing, genotyping and gene expression, as well as pathogen and mutagenesis detection – helping to reduce training time and costs.

The PCR Wizard's effortless touchscreen operation and step-by-step instructions guide users through the set­­up process, allowing sample information to be entered manually, imported from a file or identified by barcode scanning. Users can quickly and easily optimize 96- and 384-well PCR plate layouts to meet specific workflow needs – using up to 96 master mixes and defining their own controls and dilution curves – with just a single set-up required for multiple PCR plates per run. To avoid the risk of transcription errors, data can be exported in formats ready for the most popular real-time cyclers from Bio-Rad and Life Technologies, and optional integrated sample tracking further increases process security. For maximum flexibility, the PCR Wizard can be used in conjunction with the Freedom EVOware Normalization Wizard, providing simple, user-oriented solutions for the entire genomics workflow.

To find out more about Tecan's TouchTools PCR Wizard, visit www.tecan.com/pcrwizard 

For more information please contact
Tecan Trading AG
Cornelia Kegele / Antonietta Allocca
Seestrasse 103, CH-8708 Männedorf
Tel  +41 (0)44 922 81 11
Fax +41 (0)44 922 81 12
info@tecan.com
www.tecan.com

About Tecan
Tecan (www.tecan.com) is a leading global provider of laboratory instruments and solutions in biopharmaceuticals, forensics and clinical diagnostics. The company specializes in the development, production and distribution of automated workflow solutions for laboratories in the life sciences sector. Its clients include pharmaceutical and biotechnology companies, university research departments, forensic and diagnostic laboratories. As an original equipment manufacturer (OEM), Tecan is also a leader in developing and manufacturing OEM instruments and components that are then distributed by partner companies. Founded in Switzerland in 1980, the company has manufacturing, research and development sites in both Europe and North America and maintains a sales and service network in 52 countries. In 2012, Tecan generated sales of CHF 391 million (USD 416 million; EUR 323 million). Registered shares of Tecan Group are traded on the SIX Swiss Exchange (TECN; ISIN CH0012100191).

© 2014 kdm communications limited