Label Dispenser handles transparent and very small labels.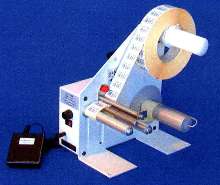 Label Dispenser handles transparent and very small labels.
November 14, 2002 - Suited for production applications, Model LD-100S uses foot-switch controlled advance mechanism. If label can be seen by operator, LD-100S correctly dispenses it. Variable speed control advances labels according to operator's desired speed. Supply roll of labels, up to 4 in. wide, slides onto built-in Roll Holder, which accepts up to 8Ĺ in. roll size and core diameters from 1Ĺ to 3 in. Unit's heavy-duty design incorporates heavy-gauge steel construction.

(Archive News Story - Products mentioned in this Archive News Story may or may not be available from the manufacturer.)
Original Press release

Labelmate
12A Sunset Way
Henderson, NV, 89014-2002
USA


LABELMATE's New Production Label Dispenser is Ideal for Transparent or Very Small Labels
Dispense and pick difficult labels with ease

Henderson, NV - November 1, 2002 - LABELMATE, the world's leading manufacturer of Label Rewinders, Unwinders, Dispensers, and Slitters, has announced the Model LD-100S Label Dispenser especially for transparent or very small labels and for production applications.

According to Terry Zimmerman, LABELMATE's President, "The new LD-100S Label Dispenser uses a novel label web handling scheme to overcome the problems usually encountered when dispensing transparent or very small labels. Normally, these labels cannot be reliably sensed by electronic means resulting in dispensers either not stopping or failing to advance to the next label. LABELMATE uses a foolproof foot switch controlled advance mechanism. If the label is such that the operator can see it, the LD-100S can correctly dispense it. The operator presses the foot switch to present the next label as required. A variable speed control causes the labels to advance at exactly the speed the operator desires. Ordinary labels can also be dispensed, and the foot switch means new convenience for production line applications.

"The supply roll of labels up to 4-inches wide slides right onto the built-in Roll Holder that accepts up to an 8-1/2-inch roll size and any core diameter from 1-1/2- to 3-inches. Just thread the label web onto the take-up spindle and your LD-100S is ready for use," Mr. Zimmerman said.

The LD-100S's heavy-duty design will stand up to the most demanding environments. Rugged, heavy-gauge steel construction and precision parts yield a product of the highest quality, assuring trouble-free performance. The LD-100S Label Dispenser requires no maintenance and is backed by LABELMATE's 3-Year Parts and Labor Limited Warranty, the longest in the industry.

Single unit pricing is USD $595. Delivery is from stock.

The World's Leading Manufacturer of Label Rewinders, Unwinders, Dispensers, Slitters, and Core Chucks

LABELMATE LLC, 12A Sunset Way, Henderson, NV 89014-2002 USA

Toll Free! (877) 833-7149 (702) 435-8535 FAX (702) 435-8536

www.labelmate.com E-mail: info@labelmate.com

LABELMATE EUROPE, 69 Avenue Alphonse XIII, B-1180 Brussels, BELGIUM +32 (2) 375-6960 FAX +32 (2) 375-3896
---


Start Your

Free


Subscription to


Industry Market Trends

.