Product News: Electronic Components & Devices
LVDS and PECL Oscillators suit telecom clocking applications.
Press Release Summary: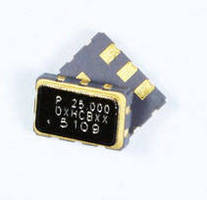 January 30, 2014 - Housed in miniature 3.2 x 5 mm ceramic packages, LV5 and PE5 Series are LVDS and PECL oscillators, respectively, with frequencies up to 200 MHz. Standard commercial and industrial temperatures range from -40 to +85°C, and stabilities can be held down to ±25 ppm, depending on temperature range. Integrated jitter is typically 0.2 pS (LV5) and 0.3 pS (PE5) over telecommunication industry standard carrier offset of 12 kHz to 20 MHz.
Original Press Release
Precision Devices, Inc. Introduces Miniature PECL and LVDS Oscillators for Telecom Clocking Applications
Press release date: January 15, 2014
Middleton, WI — Precision Devices Inc. (www.pdixtal.com), a member of the Avrio Technology Group, LLC., has announced the introduction of the LV5 and PE5 series of LVDS and PECL (respectively) oscillators. These are ideally suited for communication systems where low jitter and small size are required by chipset suppliers and system architecture.

The LV5 and PE5 series are in a miniature 3.2mm x 5mm ceramic package and available in frequencies up to 200MHz. These products are available in standard commercial and industrial temperature ranges from -40 to +85°C. Stabilities can be held down to +/-25ppm (depending on temperature range). The integrated jitter on these products is typically 0.2pS (LV5) and 0.3pS (PE5) over the telecommunication industry standard carrier offset of 12kHz to 20MHz.

"The addition of the smaller package to PDI's high performance oscillator offering is further evidence of our commitment to the commercial marketplace", according to Tom Sokol, Senior Vice President of Global Sales. "These products complement our existing 5mm x 7mm and 9mm x 14mm offerings. They are in production and available from stock to 5 weeks standard lead time."

About Precision Devices
Precision Devices (PDI) is part of Avrio Technology Group, LLC. PDI is a leading global developer and manufacturer of frequency control and filter products. With an established engineering heritage, PDI offers a comprehensive range of precision engineered crystals, LC filters, crystal filters, clock oscillators, voltage controlled crystal oscillators (VCXOs), temperature compensated crystal oscillators (TCXOs) and oven controlled crystal oscillators (OCXOs). PDI supports customers in a wide range of industry sectors including avionics, space, defense, automotive, telecommunications and consumer. PDI is an ISO-9001:2008, ISO-14001, MIL-STD-790, and MIL-PRF-38534 certified company. PDI is able to offer a comprehensive technical and logistical support and solutions to meet specific customer requirements. For further information on PDI frequency control products please visit www.pdixtal.com or email sales@pdixtal.com

About Avrio Technology Group, LLC
Avrio Technology Group, LLC is an international group of RF related companies with the objective of increasing component and software value to the customer with manufacturing and stocking locations in Europe, Asia and North America. www.avriotechnology.com.

For more information contact:
Dick  Thompson
Avrio Technology Group LLC
8840 N Greenview Drive
Middleton, WI 53562
800.274.9825
marketing@avriotechnology.com