Product News: Test & Measuring Instruments
LTE Protocol Emulator facilitates 4G network element testing.
Press Release Summary: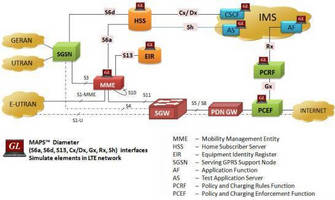 February 14, 2014 - Offering GUI for generating hundreds of UE Signaling (Load Testing) over SCTP/TCP Layers, MAPS™ Diameter Protocol Emulator enables testing of 4G network elements. Support is also included for emulating Sh interface and enhanced Test beds to handle interfacing to multiple clients/servers. Impairments can be applied to messages to simulate error conditions, and solution supports customization of call flows and message templates using Script editor and Message editor.
Original Press Release
GL Announces Enhancements to Its LTE Diameter Protocol Simulation Tool
Press release date: February 3, 2014
Gaithersburg, Maryland, USA -- GL Communications Inc announced today its enhanced MAPS™ Diameter Protocol Emulator.

Speaking to reporters, Mr. Jagadish Vadalia, Manager Product Development of the company said, "The Diameter protocol is intended to provide a framework for Authentication, Authorization and Accounting (AAA) applications such as network access, roaming, and IP mobility. AAA protocols are used to determine whether the user is allowed to connect to the network (Authentication) and use a particular service (Authorization). It is also used to track network resources used by end-user for accurate billing (Accounting)."

He added, "Using MAPS™ Diameter one can test almost all 4G network elements such as MME (Mobility Management Entity), HSS (Home Subscriber Server), EIR (Equipment Identity Register), AF (Application Function), AS (Application Server), CSCF (Call Session Control Function), PCRF (Policy and Charging Rules Function) ,PCEF (Policy and Charging Enforcement Function) , SGSN (Serving GPRS Support Node) and PDN GW (Packet Data Network Gateway)."

Mr.Vadalia further added, "As an enhancement to the existing MAPS™ Diameter Emulator, GL now offers support for emulating Sh interface, multiple transport handlers (SCTP/TCP), and enhanced Test beds to handle interfacing to multiple clients/servers. The MAPS™ Diameter Emulator can now simulate User Data Handling procedures over Sh interface besides existing support for several other procedures over S6a, S6d, S13, Cx/Dx, Gx, and Rx interfaces."

He added, "The MAPS™ Diameter Emulator gives the users the unlimited ability to edit messages on supported interfaces to support various procedures. Call handling scripts of the application provide statistical information about total calls, active calls, completed calls, passed calls, and failed calls."

Important Features
User-friendly GUI for generating hundreds of UE Signaling (Load Testing) over SCTP/TCP Layers
Impairments can be applied to messages to simulate error conditions
Supports customization of call flows and message templates using Script editor and Message editor
Ready-to-use scripts for quick testing
Supports scripted call generation and automated call reception
Provides protocol trace with full message decoding, and graphical ladder diagrams of call flow with time stamp
Script based & protocol independent software architecture
Provides call statistics and associated captured events and error events during call simulation.

About GL Communications Inc.,
Founded in 1986, GL Communications Inc. is a leading supplier of test, monitoring, and analysis equipment for TDM, Wireless, IP and VoIP networks. Unlike conventional test equipment, GL's test platforms provide visualization, capture, storage, and convenient features like portability, remotability, and scripting

GL Communications has over the years worked with major telecom equipment vendors (EVs) and system integrators to meet the testing requirements arising at various stages of telecommunications product development life cycle.

With its proven expertise of over 25 years, GL has a comprehensive suite of telecom testing solutions to verify and ensure 'quality and reliability' of variety of telecom networks including Wireless, and high-speed fiber optic lines.

GL's test tools range from simple PC-based software test tool to all-encompassing hardware units with futuristic expansion capabilities.  GL's test solutions cover wide array of networks – 4G (LTE), 3G, IP, Ethernet, T1, T3, E1, E3, OC-3/STM-1, OC-12/STM-4, and traditional PSTN networks.

GL's tools are widely used by the telecommunication industry for conformance testing, automated stress/load testing, performance testing, remote accessibility, centralized web-based control and analysis, fault testing and analysis, and customized testing.
For more information about GL's complete line of products,

Contact:

Shelley Sharma
Phone: 301-670-4784 ext. 114
E-mail: info@gl.com