Product News: Computer Hardware & Peripherals, Electrical Equipment & Systems
LSZH USB 3.0 Cables offer 3 interface options.
Press Release Summary: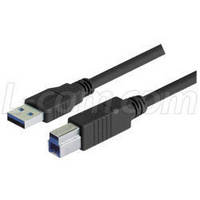 February 28, 2014 - Available with USB 3.0 Type A, Type B, and Type Micro B interfaces, USB 3.0 Cables feature Low Smoke Zero Halogen jackets, which reduce amount of toxic and corrosive gases emitted during combustion, and will self extinguish after catching fire. LSZH is popular anywhere protection of people and equipment from acidic smoke and fumes is critical. Supporting throughput up to 4.8 Gbps, cables minimize time required for transferring large amounts of data or video.
Original Press Release
L-com Offers New LSZH USB 3.0 Cables
Press release date: February 20, 2014
NORTH ANDOVER, MA - L-com, Inc., a designer and manufacturer of wired and wireless connectivity products, announced today that it is now offering three new interface options with its Low Smoke Zero Halogen (LSZH) USB 3.0 Cables. USB 3.0 Type A, Type B and Type Micro B are now available for customers. The new series, featuring LSZH cable jackets, can reduce the amount of toxic and corrosive gases emitted during combustion, and will self extinguish after catching on fire.

"The safety feature of LSZH with USB connectivity is a game changer for many of our customers, both military and civilian," said Steve Smith, Product Manager. "We are proud to be able to offer such high quality USB connectivity products as solutions for their applications."

Low smoke zero halogen is typically used in poorly ventilated areas. It is very popular with military contractors and anywhere where the protection of people and equipment from acidic smoke and fumes is critical. Other applications include data storage, video transfer, aerospace, and shipboard use.

USB 3.0 cables are up to 10 times faster than USB 2.0 cables with 4.8 Gbps of throughput versus 480 Mbps. The increased bandwidth substantially reduces the time required for transferring large amounts of data or video. Quantity pricing is available by contacting L-com sales.

For more information about this release, please contact:
Peter McNeil, Product Marketing Manager
978-682-6936 x1450, pmcneil@l-com.com

L-com, a global designer and manufacturer of wired and wireless connectivity products, offers a wide range of solutions and unmatched customer service for the audio/video, OEM, military/aerospace, IT, and wireless RF industries. The company's product portfolio includes cable assemblies, connectors, adapters, computer networking components, and custom products, as well as the HyperLink line of wireless antennas, amplifiers, filters/splitters, lightning protectors, weatherproof enclosures, and much more. Trusted for more than 30 years, L-com, Inc. is headquartered in North Andover, Massachusetts, USA, and is ISO 9001: 2008-certified. For more information, please visit:  http://www.L-com.com/ 

Friendly & Knowledgeable Service - In Stock Availability & Same Day Shipping - 100% Satisfaction Guaranteed

Connect with L-com:   Twitter   Facebook   YouTube   Google +