LED Work Light features cart-mounted design for mobility.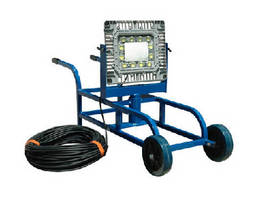 LED Work Light features cart-mounted design for mobility.
October 10, 2013 - Consisting of 150 W LED lamp assembly mounted to wheel barrow style cart and 200 ft of SOOW cord, Model WAL-WBC-1X150RT runs on standard 120–277 Vac, producing 12,000 lumens of clean white light and illuminating 36,000 sq ft of work space. Lamp is constructed of copper-free aluminum alloy with powder coat for resistance to corrosion. With swiveling bracket, users can adjust lamp from side to side and up and down. Aluminum cart includes integral handles and solid rubber wheels.

Original Press Release

Larson Electronics, LLC
9419 E US Hwy. 175
Kemp, TX, 75143
USA



Industrial Lighting Manufacturer Larson Electronics Releases Cart Mounted LED Work Light


Leading manufacturer and distributor of industrial lighting equipment Larson Electronics has announced the release of a new LED light cart designed for high output and mobility. The WAL-WBC-1X150RT Cart Mounted LED Work Area Light can illuminate 36,000 square feet of work space and provides portable mobility in the form of a wheeled mounting cart.

The WAL-WBC-1X150LED cart mounted LED work area light from Larson Electronics gives operators a powerful and easy to deploy source of illumination that can withstanding the demanding environments of industrial work places. This heavy duty lighting systems consists of a powerful LED lamp assembly mounted to a rugged aluminum wheel barrow style cart and 200 feet of SOOW cord. The LED lamp on this cart lighting system is constructed of copper free aluminum alloy with a tough powder coat for added durability and resistance to corrosion. This 150 watt LED light fixture produces 12,000 lumens of clean white light output and has an excellent 60,000 hour rated lifespan with 80% lumen retention, giving operators a high degree of reliability and high light quality. The LED lamp assembly is mounted with a swiveling bracket that allows the operator to adjust the lamp from side to side and up and down to achieve the best coverage of the work area. The entire lamp and bracket assembly can be removed from the cart to allow easier transport or passing the unit through tight entryways where the cart can then be reassembled without tools. The cart is constructed of aluminum for light weight and high strength and features integral handles for easy maneuvering and solid rubber wheels for no flat reliability. The system runs on standard 120-277 VAC current and is rounded out with 200 feet of abrasion resistant cord with straight blade plug for ample working length and moving the unit about larger work areas. This LED cart light provides numerous advantages over halogen and HID cart lights in the form of greatly reduced power consumption, far cooler operation, very high durability and resistance to impacts, extreme long lamp life, and high light quality producing the better contrasting and color reproduction so critical to close work and detail oriented tasks. 

"This portable LED light cart provides intense area illumination in a compact and portable design, making it ideal for temporary job site illumination," said Rob Bresnahan with Larson Electronics' LarsonElectronics.com.  "Producing over 12,000 lumens and offering extreme mobility, the WAL-WBC-1X150LED is a must have for construction work, offsite repairs, and any application that requires temporary work site lighting."

Larson Electronics carries an extensive line of LED lights, LED work lights, LED light bars, intrinsically safe LED lights, outdoor LED lights, and explosion proof LED lights. You can view Larson Electronics' full line of industrial grade lighting by visiting their website at LarsonElectronics.com.  Larson Electronics can be reached directly by calling 1-800-369-6671 or 1-214-616-6180 for international inquiries.

---