Product News: Electrical Equipment & Systems, Optics & Photonics
LED Ring Light includes contrast-enhancing polarizer.
Press Release Summary: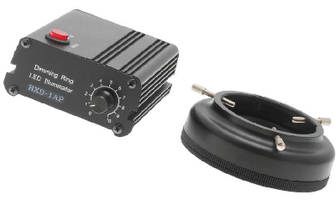 August 21, 2014 - With polarizer, Microscope Ring Light allows clear inspection of shiny circuit boards or highly reflective parts. Rotating polarizer ring slowly reduces or virtually eliminates reflective glare and hot spots. Mounted with 3 thumb screws, fixture has 60 white LEDs with ultra-cool color temperature of 8,000 K, working distance of 4 in., and minimum working life of 20,000 hours. Light is accompanied by 10-step light controller and ring light adapter.
Original Press Release
Polarizer Adds Inspection Clarity To New Aven LED Ring Light
Press release date: August 19, 2014
ANN ARBOR, MI – The newest microscope ring light from Aven, Inc. includes a contrast-enhancing polarizer that allows crisper, clearer inspection of shiny circuit boards or highly reflective parts.

Rotating the polarizer ring slowly reduces or virtually eliminates reflective glare and hot spots.

"This greatly improves microscopic imaging of metal, glass, ceramic and polished or coated materials," says company president Mike Shahpurwala. "Surface details, indented areas or embossing become much more visible."

The fixture, easily mounted with three thumb screws, has 60 white LEDs with an ultra-cool color temperature of 8,000 Kelvin and a minimum working life of 20,000 hours. Its working distance is 100 millimeters (four inches).

It's accompanied by a 10-step light controller and ring light adapter.

Applications include electronics inspection, materials analysis and scientific microscopy. Polarized light also is ideal for examining minerals, polymers and biological specimens.

Aven also offers seven other LED ring light models and two fiber-optic ring lights.

For more information, call (734) 973-0099. A digital catalog is at www.aventools.com/print-and-web-materials. See us this fall at Booth 840 during ATX Midwest in Chicago on Oct. 1-2.

Aven, Inc. manufactures and distributes high-performance optical instruments and precision tools for microscopy, inspection and assembly. More than 800 products include video inspection systems, integrated portable microscopes, video borescopes, task lights and stainless steel tools for lab use and precision hand tools such as tweezers, pliers, cutters, screwdrivers, crimpers, knives and alignment tools. Brands include Mighty Scope, iLoupe, Miruc, Carton, Technik and Accu-Tek. A technology innovator since 1983, Aven is located in a high-tech corridor of Southeast Michigan.

CONTACT:
Mike Shahpurwala
mike@aventools.com
734.973.0099