Product News: Electrical Equipment & Systems, Electronic Components & Devices
LED Fog Lights help drivers perceive contrasts.
Press Release Summary: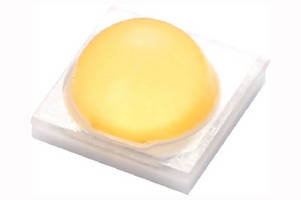 June 13, 2014 - Combining fog light and daytime running light, Argus Series provides clear forward visibility when driving in dense fog or heavy downpours. Single-chip LED sources run on 1 W and produce lighting effect as high as 150 lm with sunlight color temperature of 5,600 K. Available in 3.5 x 3.5, 2.5 x 2.5, and 1.5 x 1.5 mm packages, LEDs are AEC-Q101 certified.
Everlight Electronics Co. Ltd.
Original Press Release
Everlight Electronics is Launching New Fog Light - Argus LED
Press release date: June 5, 2014
Shulin, New Taipei City -- EVERLIGHT ELECTRONICS CO., LTD. [TSE:2393, a leading player in the global LED industry, puts its three decades of experience in optoelectronics in developing LED components into the new Argus series fog light source. This product is capable of providing a clear forward visibility when driving in dense fog or heavy downpour. Combined with the color temperature of sunlight (5600K), the LED front fog light increases the driver's ability to perceive contrasts. The Argus series combined fog light and daytime running light module will be showcased in the 2014 Guangzhou International Lighting Exhibition.

LED car light sources featuring high lighting efficiency and uniformity give you infinite horizons

Similar to general lighting, car lighting has a long history from the earliest kerosene lamps to halogen light to the most popular HIDs of today. Alongside with the popular applications in lighting, LED is making its way into car products. As the "eye" of a car, car lights are the most important contributors to driving safety and evolved from satisfying nighttime lighting needs to taking care of driving safety 24-7. The LED head lamps and adaptive front lighting system, such as those installed on Audi A7, A8 and BMW M3, M4, as well as commonly seen LED brake lights and indicator lights not only show the unequaled ability of LEDs in energy saving and environmental protection, but also suggest that the use of LEDs improves the selling point and value of products themselves.

This year, EVERLIGHT is rolling out new high-power Argus single-chip LED fog light sources. In addition to the traditional 3.5x3.5mm package, the Argus comes with 2.5x2.5 and even 1.5x1.5 single-chip packages to make the LED fog light modules more compact. Therefore, the light energy using the diffusion area in a reflective design is not lowered, and thus, the light efficiency and in turn the flexibility of space design are greatly improved. In the Argus single-chip series, the lens and chipset are put through rigorous optical reflection tests to improve color temperature and uniform halo effect. Regarding brightness performance, the single-chip module running on 1W produces a lighting effect as high as 150lm. EVERLIGHT will target rigorous requirements of zero defects like in car manufacturing as well as a global team of professionals to build a milestone for car lighting market.

The quality of EVERLIGHT's car LED components is certified to TS16949, and the LEDs themselves are AEC_Q101 certified. They are at the top of rank in stability, efficiency and cost/performance ratio, which makes EVERLIGHT an indispensible link in the supply chain of major international car manufacturers. The practical experience in the OE market has been highly recognized among major international firms.
          
More information or datasheet for this product upon request: Please contact your local EVERLIGHT sales office. Local sales information: www.EVERLIGHT.com.

The Right LED for the Right Application
A dedicated application-based marketing approach supports the idea that every application is to be paired with "The Right LED" to provide the best performance and quality. Every package design presents its own advantages in certain applications.

EVERLIGHT is fostering close relationships between their R&D, Sales and Marketing teams to meet and exceed their customers' expectations in both product offering and technology. EVERLIGHT has a great variety of customers with total solutions for their different applications and is incessantly committed to satisfy the strongly growing global market for LED solutions.

About EVERLIGHT Electronics Co. Ltd.
EVERLIGHT Electronics Co., Ltd. was founded in 1983 in Taipei, Taiwan. Playing a critical role in the formation of the global LED industry, the company has rapidly become a leading worldwide supplier due to its dedication to certification, R&D, production, quality, marketing and global customer service. EVERLIGHT provides a comprehensive optoelectronics product portfolio consisting of high power LEDs, lamps, SMD LEDs, LED lighting modules, digital displays, optocouplers and infrared components for various applications. Today, EVERLIGHT is a global company with over 5,600 employees based in China, Hong Kong, Japan, Korea, Singapore, Malaysia, Germany, Sweden, U.S., and Canada.
Please visit us at www.everlight.com

Company contact Europe:
Everlight Electronics Europe GmbH
Siemensallee 84, Building 7302, 5th floor
D-76187 Karlsruhe
Phone: +49 (0721) 824 - 473
info@Everlight-eu.de

Company contact USA:
Everlight Americas, Inc.
3220 Commander Drive, Suite 100
Carrollton, TX, 75006, USA
Phone: +1 (972) 490 4008
salesmarketing@everlightamericas.com