Product News: Electrical Equipment & Systems
LED Aquarium Lights offer 30,000+ hour lifespan.
Press Release Summary: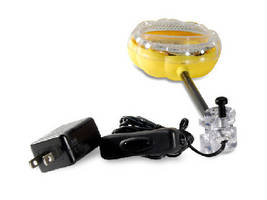 April 21, 2014 - Available in 3 light options, Donut Series FZL-6100 is suitable as main tank light in small aquariums. Nature light is for all ornamental fish, while Marine Day is used for marine fish, marine invertebrates, and African Cichlids. Tropic light is suitable for plants, shrimp, and tropical fish. Consuming just 5 W, lights emit no heat, UV, or IR radiation. Units feature flexible arm that allows light intensity and angle to be adjusted.
Original Press Release
FZLED Aqua Light Donut Series with Flexible Arm
Press release date: April 17, 2014
New Taipei, Taiwan – FZLED, maker of high-performance LED lighting product, is pleased to introduce the new collection LED Aquarium light - Donut Series FZL-6100. The 5 watts LED aqua light has three light options in different colors: Nature light, Marine Day, and Tropic light. With lovely shape design, the compact aqua light is suitable as a main tank light for smaller aquarium, allowing people decorate their aquarium with easy and fun.

FZL-6100 comes in three light options for different modes: Nature light (Green color) is for all ornamental fish, Marine Day (Brown color) is perfectly used for marine fish, marine invertebrates and African Cichlids. Tropic light (Yellow color) is suitable for plants shrimp and tropical fish.

FZLED Aqua light is energy-efficient and uses lower power consumption to produce bright white light. Emitting no heat, UV or IR light radiation, FZLED is extraordinary provide glare free and energy-saving lights. The LED lifespan is more than 30,000 hours. The installation is quick and easy, and its flexible arm allows the light intensity and angle to be changed easily.

The FZL-6100 is available soon in Taiwan, Singapore and Thailand. FZLED welcome enquiries from distributors, wholesalers, and retailers in order to bring it worldwide.

Features
Energy Saving
No heat, No UV, or IR light radiation
Compact design with lovely shape
Suitable as a main tank light for smaller aquarium
Quick and easy installation
Flexible Arm allows light intensity and adjustable angle
CE, CNS, EMI, EMC approved

Applications
Indoor Lighting
Atmospheric Lighting
Immediate Lighting
Mood Lighting
Aqua Lighting

Specifications of FZL-6100
Power Consumption: 5 watts
LED lifespan >30000 hours
Input Power: 12V AC/DC 100-240V, 50/60Hz
Net. Weight: 173 g
Product URL: http://www.fzled.com.tw/products.php?KindID=9&ID=125

About FZLED
FZLED is a Taiwan-based manufacturer and innovative designer of high-performance LED lighting products. As a sub-division of FZtech Inc., FZLED's products have superior mechanical and thermal designs, utilizing the expertise of FZtech. Committed to excellence, FZLED follows a strict TQC for the entire manufacturing process, and conducts R&D projects continuously in an effort to create LED lighting solutions that offer light-weight, high-quality, environmentally-friendly, innovative, and thermally-optimized products to consumers. For more information visit FZLED online at www.fzled.com.tw.

PR Contact
FZtech Inc.
TEL: +886 2 2228 7885
E-mail: PR@FZtech.com.tw