Knife Gate Valve suits severe service applications.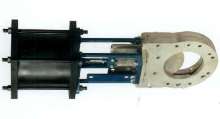 Knife Gate Valve suits severe service applications.
July 1, 2004 - Fabri-Valve XS150 features full port and one-piece perimeter seal that is double-locked in valve body, providing bi-directional, bubble-tight shutoff. Tab on perimeter seal acts as body joint seal, which eliminates possibility of joint leakage caused by pipe stresses. Should packing leak, valve is repairable while under line pressure. New packing can be injected into valve without shutting system down.

(Archive News Story - Products mentioned in this Archive News Story may or may not be available from the manufacturer.)
Original Press release

ITT Industries, Engineered Valves Group
33 Centerville Rd., P.O. Box 6164
Lancaster, PA, 17603-2064
USA


ITT Industries, Engineered Process Solutions Group (EPSG) Debuts New Fabri-Valve® High Performance Knife Gate Valve
XS150 Knife Gate Valve has a One Piece Perimeter Seal Design that Provides Superior Valve Performance and a Longer Installation Life in Severe Service Applications.

(Lancaster, PA) - This new knife gate design eliminates the leakage paths at the transition point between the perimeter seal and the chest seal, a problem that is common to other high performance knife gate valve designs. The XS150 also offers a true full-port, a feature that is critical in numerous gas, liquid and fibrous slurry applications. The new XS150 knife gate joins the Fabri-Valve line of valves and is tailored toward more demanding installation conditions.

The Fabri-Valve XS150 High Performance knife gate valve features a robust, one-piece perimeter seal that provides bi-directional bubble tight shutoff. The seal is double-locked in the valve body, a design innovation that keeps the perimeter seal secure within its groove. The Fabri- Valve XS150 is a perfect solution to the common problems of performance and longevity that typically plague knife gate valves in harsh operating conditions found in the pulp and paper industry, as well as the steel and power industries.

Ed Macys, Product Manager for Fabri-Valve, cites a growing customer demand for valves with dependable long life that are also easy to maintain, as the key driver behind innovations in the XS150. As Macys explained; "There are significant costs associated with packing leaks and seal failure. Should the packing leak, the XS150 is repairable while under line pressure. New packing can be injected into the valve without shutting the system down." The XS 150 delivers advantages that no other valve on the market currently offers; however, the XS150 is comparable in price with existing high end knife gate valves.

Macys points to the main innovation of the XS150 as "the one-piece perimeter-chest seal which has 'shoulders' mechanically locking the seal in its groove. The tab on the perimeter seal acts as a body joint seal, which elimninates the possibility of joint leakage caused by pipe stresses. The tab also helps to retain the perimeter seal in its groove providing a secondary lock."

"This seal design helps prevent seal pull-out in demanding applications, and the sealing technology includes expansion allowances enabling the seal to reposition, preventing over-compression." Macys also emphasized that, "shut-off performance is unaffected by differential pressure, or flow direction."

To learn more or to get technical specifications, visit the ITT EVG website at www.engvalves.com and click "Fabri-Valve®" and then click "Product Selection Guide."

Fabri-Valve® is a registered brand of ITT Industries, Engineered Valve Group headquartered in Lancaster, PA with additional manufacturing operations in Amory, MS.

ITT Industries, Inc. (www.itt.com) supplies advanced technology products and services in key markets including: fluid and water management including water treatment; defense communication, opto-electronics, information technology and services; electronic interconnects and switches; and other specialty products. Headquartered in White Plains, NY, the company generated $5.63 billion in 2003 sales.

In addition to the New York Stock Exchange, ITT Industries stock is traded on the Midwest, Pacific, and Paris and Frankfurt exchanges.
---


Start Your

Free


Subscription to


Industry Market Trends

.