Product News: Test & Measuring Instruments, Computer Hardware & Peripherals
Interface Cards support CAN and CAN FD standards.
Press Release Summary: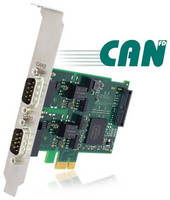 March 6, 2014 - Passive CAN-IB 500 and active CAN-IB 600, available for PCIe standard, have up to two CAN interfaces that can be operated in either CAN or CAN FD modes. Able to be used in applications with increased requirements for data preprocessing, CAN-IB 600 has built-in MCU. Both cards are available with optional galvanic isolation of channels and supported by both IXXAT Windows driver packages (VCI) and real-time driver packages (ECI for Linux, RTX, Intime, QNX).
Original Press Release
Fast and Efficient - the New 
CAN FD PC Interfaces from HMS
Press release date: February 25, 2014
Under the IXXAT brand, HMS is bringing a new CAN PC interface 
series for CAN FD to the market, supporting it with an extensive 
suite of drivers and tools.With the new CAN-IB 500 and the CAN-IB 600, HMS offers two interface cards (passive/active) that support not only CAN but also the new CAN FD standard. Both cards are for the PCI Express standard. They have up to two CAN interfaces, which can be operated in either CAN or CAN FD modes. Galvanic isolation of the channels is optionally available.

The active CAN-IB 600 also has a built-in microcontroller, so it can even be used in applications with increased requirements for data preprocessing such as high-precision timestamps or active filtering of the messages to be sent from and received by the card.

The cards are supported by both the IXXAT Windows driver packages (VCI) and the real-time driver packages (ECI for Linux, RTX, Intime, QNX). The IXXAT APIs for CANopen and SAE J1939 also support the new interfaces in CAN mode. For the analysis of CAN and CAN FD networks, HMS offers the IXXAT canAnalyser, a powerful Windows tool.

Classical CAN, with its eight bytes of payload data and a maximum transmission rate of 1 MBit/s, is part of a wide variety of applications, not least due to its favorable price and versatility. Applications that require the transmission of larger quantities of data, however, have had to move to other technologies until now, which is of course associated with higher costs.

Now, with its capacity of up to 64 bytes of payload data and a higher bit rate for payload transmission, CAN FD is eliminating the old limitations of CAN, making it attractive also for applications that have never been able to work with CAN.

You can find more information about the new CAN FD cards at www.ixxat.de

HMS Industrial Networks is the leading independent supplier of embedded network technology for automation devices. HMS develops and manufactures solutions for interfacing automation devices to industrial networks. Development and manufacturing takes place at the head office in Halmstad, Sweden. Local sales and support is provided by the HMS branch offices in Chicago, Beijing, Karlsruhe, Milan, Mulhouse and Tokyo. HMS employs over 240 people and reported sales of Euros42.5 million in 2011. HMS was formed in 1988 and is listed on the NASDAQ OMX Nordic Exchange in Stockholm in the category Small Cap, Information Technology with ISIN SE0002136242.

IXXAT Automation GmbH
Phone: 1-603-471-0800
Fax: +1-603-471-0800 ext. 101
sales@ixxat.com

HMS Industrial Networks
Stationsgatan 37
30245 Halmstad
Sweden
www.anybus.com

Michela  NALIN
Phone: +46 351729 93
Fax: +46 351729 09
min@hms.se