Product News: Electrical Equipment & Systems, Electronic Components & Devices
Intelligent Power Modules include 10, 15, and 20 A models.
Press Release Summary: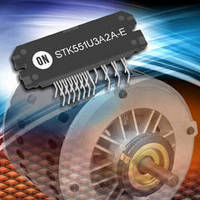 March 19, 2014 - Suitable for motor controls in white goods and industrial applications, Intelligent Power Modules are 3-phase inverter hybrid ICs that combine pre-driver and output stage power devices with boot strap diodes, under-voltage protection, and over-current protection. Power devices and gate drivers feature 600 V max voltage, while inverter units are rated to 450 V. Operating at switching frequency up to 20 kHz, modules use Insulated Metal Substrate Technology for max efficiency with low noise.
Original Press Release
ON Semiconductor Introduces Intelligent Power Modules that Integrate Pre-Driver and Output Stage with Boot Strap and Protection Functions
Press release date: March 11, 2014
Portfolio Includes 10 A, 15 A, and 20 A Devices for White Goods and Industrial Motor Applications

PHOENIX, Ariz. — ON Semiconductor (Nasdaq: ONNN), driving energy efficient innovations, has introduced seven highly integrated three-phase inverter hybrid intelligent power modules (IPM) for motor controls in white goods and industrial applications. The highly integrated hybrid device portfolio contains all the power devices composing pre-driver and output stage power devices with boot strap diodes, under-voltage protection, and over-current protection.

The IPMs are composed of power devices and gate drivers with 600 volts (V) maximum voltage, and the maximum operating voltage for the inverter units are 450 V.  STK544UC62K-E, STK551U362A-E, STK554U362A-E, and STK554U362C-E deliver maximum output current of 10 amperes (A); STK551U392A-E and STK554U392A-E deliver maximum output current of 15 A; and STK551U3A2A-E delivers maximum output current of 20 A.

These IPMs can operate at a switching frequency up to 20 kilohertz (kHz).  Insulated Metal Substrate Technology (IMST®) from ON Semiconductor enables the IPMs to deliver high power efficiency with low noise. The high integration levels of the devices themselves, combined with the smaller external components, enable the power system control boards to be physically smaller, with fewer components, fewer high voltage circuit board traces, and less complicated assembly.

"In the white goods market, power efficiency continues to be a priority," said Chris Chey, general manager of the IPM division of ON Semiconductor.  "The integration level of these Intelligent Power Modules helps our customers increase efficiency and reduce noise in white goods control circuits, while reducing design time."

The GreenPoint® online analysis tool from ON Semiconductor provides an interactive environment to analyze IPM performance.  Users can select the device to analyze, set operating conditions, view performance simulations, and download results.

Packaging and Pricing
The STK544UC62K-E is offered in Pb-free SIP-23 packages.  The STK551U362A-E, STK554U362A-E, STK554U362C-E, STK551U392A-E, STK554U392A-E, and STK551U3A2A-E are offered in Pb-free SIP-29 packages.  Budgetary pricing ranges from $6.00 to $8.40 per unit.

About ON Semiconductor
ON Semiconductor (Nasdaq: ONNN) is driving energy efficient innovations, empowering design engineers to reduce global energy use. The company offers a comprehensive portfolio of energy efficient power and signal management, logic, discrete and custom solutions to help customers solve their unique design challenges in automotive, communications, computing, consumer, industrial, LED lighting, medical, military/aerospace and power supply applications. ON Semiconductor operates a responsive, reliable, world-class supply chain and quality program, and a network of manufacturing facilities, sales offices and design centers in key markets throughout North America, Europe, and the Asia Pacific regions. For more information, visit http://www.onsemi.com.

Follow @onsemi on Twitter.

ON Semiconductor and the ON Semiconductor logo are registered trademarks of Semiconductor Components Industries, LLC. All other brand and product names appearing in this document are registered trademarks or trademarks of their respective holders. Although the company references its Web site in this news release, such information on the Web site is not to be incorporated herein.

Contacts
Nobuo Horiuchi 
Media Relations
ON Semiconductor
+81-3-5817-1055
Nobuo.Horiuchi@onsemi.com