Product News: Computer Hardware & Peripherals
Integrated HPEC Rugged Subsystem operates in harsh environments.
Press Release Summary: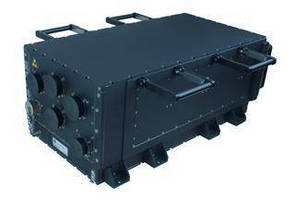 April 3, 2014 - Accelerating development/deployment, CRS 48.5 High Performance Embedded Computing (HPEC) Rugged Subsystem uses VITA 48.5-compliant air-flow through-cooling to allow integration of up to 8 quad core Intel® Core™ i7 processing nodes to satisfy embedded computing requirements. Included DSP280 multiprocessor with 2 quad core Intel Core i7 processors is capable of 260+ gigaflops peak performance and delivers main memory bandwidth up to 21 Gbps per CPU node. Several I/O options are available.
Original Press Release
GE Brings Supercomputing Performance to Harsh Environments
Press release date: March 26, 2014
CRS 48.5 uses advanced cooling technology to bring data center performance to the battlefield
Rugged subsystem can deliver up to 2.4 teraflops peak performance to satisfy the most demanding ISR, sensor and image processing, and multi-INT applications
Pre-integrated, pre-validated Linux® cluster is application-ready for faster development/deployment at lower cost and risk

HUNTSVILLE, AL — GE Intelligent Platforms today announced the CRS 48.5 High Performance Embedded Computing (HPEC) Rugged Subsystem. A complete, integrated, pre-tested, ready-to-run subsystem enabling faster development/deployment at lower cost and risk, it uses the most advanced VITA 48.5 compliant air-flow through-cooling to allow the integration of up to eight quad core Intel® Core™ i7 processing nodes. This makes it capable of satisfying the most demanding rugged embedded computing requirements such as ISR (intelligence, surveillance, reconnaissance) and electronic warfare (EW) in the harshest, most challenging environments.

The CRS 48.5 ATR subsystem features the GE DSP280 multiprocessor with two quad core Intel Core i7 processors. The DSP280 is capable of more than 260 gigaflops peak performance and delivers main memory bandwidth of up to 21GBytes/second per CPU node.

A broad range of highly flexible configurations is available. The CRS 48.5 can be upgraded to take advantage of the even more powerful DSP281 multiprocessor which is based on 4th generation Intel Core i7 ('Haswell') technology. Up to four DSP281s can be configured, for a total peak performance in excess of 2.4 teraflops. Both the DSP280 and DSP281 support a broad range of I/O options including Ethernet interfaces, serial I/O ports, USB ports, DVI ports and audio ports.

Additionally, the CRS 48.5 rugged subsystem takes advantage of the connectivity and performance of GE's switch fabric module (SFM) family such as the GBX460 fully managed 10 Gigabit Ethernet data plane switch or the IBX400 InfiniBand SFM for increased data plane bandwidth with lower latency. Sensor data input is supported via up to four 10 Gigabit BASE-SR fiber channels via the external connectors.

For storage-intensive applications, up to 8TBytes of solid state drive memory is available.

Thermal management is enhanced on the CRS 48.5 via its air-flow through-cooling capability which can handle up to 1,200 Watts.

"Historically, it has not been possible to configure such a significant processing resource in a single chassis because the heat generated by multiple powerful processors could not be adequately removed – and thus potentially lead to issues with reliability," said Mac Rothstein, Systems Product Manager at GE Intelligent Platforms. "The CRS 48.5 HPEC Rugged Subsystem is among the first commercially available solutions to address that problem by implementing advanced air-flow through-cooling as specified by the VITA standard. This new technology overcomes the thermal challenges inherent in very high performance embedded computing subsystems, and means that military and aerospace organizations can deploy more computing capability into harsher environments than ever before."

The CRS 48.5 is supported by GE's unique AXIS Advanced Multiprocessor Integrated Software development environment. AXISPro includes a high performance IPC middleware and GUI for task level programming and fast prototyping to reduce development cost and shorten time to solution of multi-core, multi-threaded and multi-node distributed system architectures across multiple operating systems including Linux®, Windows® and VxWorks® and includes quick start signal and image processing examples to further accelerate time-to-solution.

About GE Intelligent Platforms
GE Intelligent Platforms is a General Electric company, headquartered in Charlottesville, VA and part of GE Energy Management. The company's work in the military/aerospace segment, headquartered in Huntsville, AL, and Towcester, England, provides one of the industry's broadest ranges of high performance, rugged, SWaP-optimized embedded computing platforms. Backed by programs that provide responsive customer support and minimize long term cost of ownership for multi-year programs, GE's solutions are designed to help customers minimize program risk and cost, and to speed time-to-market. For more information, visit defense.ge-ip.com.

For more information: http://defense.ge-ip.com/products/crs-48-5/p3736

For more technical information: http://defense.ge-ip.com/download/crs-48-5-product-datasheet/13693/3736/.

A high res image can be found at: www.genewscenter.com/imagelibrary/detail.asp?MediaDetailsID=6618

Intel is a registered trademark, and Core is a trademark, of Intel Corporation. Windows is a registered trademark of Microsoft Corporation. Linux is the registered trademark of Linus Torvalds. VxWorks is a registered trademark of Wind River Systems. InfiniBand is a registered trademark of the InfiniBand Trade Association. All other trademarks are the property of their respective owners.

Related downloads
GE Intelligent Platforms CRS 48.5 High Performance Embedded Computing (HPEC) Rugged Subsystem
GE Intelligent Platforms CRS 48.5 High Performance Embedded Computing (HPEC) Rugged Subsystem GE

Media contacts:
Ian McMurray
GE Intelligent Platforms
Phone: +44 (0) 1327 322821
Email: ian.mcmurray@ge.com