Product News: Test & Measuring Instruments, Sensors, Monitors & Transducers
Inspection System provides semi-automated corrosion mapping.
Press Release Summary: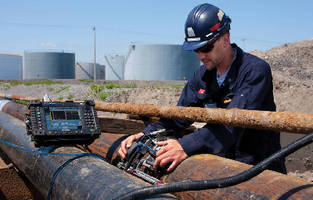 July 13, 2010 - Comprised of OmniScan MX PA flaw detector, OmniScan MXU software with corrosion mapping, and HydroFORM Phased Array Probe Carrier with Mini-Wheel encoder, HydroFORM System provides non-destructive testing of metal plates, pipes, and welded components for detection of internal corrosion, mid-wall anomalies, and environmentally damage mechanisms. Phased array probes cover area up to 2.36 in. wide at speed of 3.93 ips with data increment size of .039 x .039 in. in scan and index direction.
Original Press Release
Olympus Introduces A Semi-Automated Corrosion Mapping Solution
Press release date: July 9, 2010
UTILIZING THE HYDROFORM PHASED ARRAY PROBE IMMERSION BOX
Olympus NDT is pleased to introduce the first semi-automated (semi-AUT) ultrasound phased array solution developed for corrosion mapping applications. This portable inspection solution comprises several components including the OmniScan MX PA flaw detector, OmniScan MXU software with corrosion mapping functionality, and the HydroFORM Phased Array Probe Carrier with a Mini-Wheel encoder. The new HydroFORM solution improves inspection quality, operator safety, mechanical dependability, and productivity in the nondestructive testing (NDT) of metal plates, pipes, and welded components for detection of internal corrosion, mid-wall anomalies, and environmentally damaged mechanisms.
The HydroFORM is an innovative carrier for phased array (PA) probes that cover an area up to 60 mm wide (2.36 in.) at a speed up to 100 mm/s (3.93 in/s) with data increment size of 1 mm x 1 mm (.039" x .039") in the scan and index direction. The HydroFORM probe carrier fits a broad range of curvatures and diameters without the need to use any wedges. It is water-coupled to the inspection surface with a special gasket that minimizes water consumption and provides excellent surface conformance for OD and ID applications. It can be outfitted with magnetic or rubber wheels.
The HydroFORM can be used independently or in unison with the optional Olympus CHAIN Scanner. Both portable solutions can be applied to pipe ODs from 100 mm (4 in.) and up, flat surfaces, and complex geometries such as spherical or elliptical pressure vessel heads
The HydroFORM and OmniScan combination provides unparalleled corrosion detection and characterization in a compact, light weight, battery operated package. This combination is also "Rope Access" friendly for applications that require inspections on tall or large structures such as storage tanks, wind mill towers, offshore platforms, and bridges. Alternatively, the HydroFORM can also be used with the TomoScan FOCUS LT to provide phased array capabilities for both the basic and advanced level inspector. The HydroFORM presents a cost-effective solution for customers that already own the OmniScan MX PA or any of the other components that are part of the corrosion mapping solution.
The phased array technology brings the ability to detect and characterize various anomalies using ultrasonic compression wave and angle beam inspection techniques.
About Olympus
Olympus is a world-leading manufacturer of innovative nondestructive testing instruments that are used in industrial and research applications ranging from aerospace, power generation, petrochemical, civil infrastructure and automotive to consumer products. Leading edge testing technologies include ultrasound, ultrasound phased array, eddy current, and eddy current array. Its products include flaw detectors, thickness gages, in-line systems, automated systems, industrial scanners, pulser-receivers, probes, transducers, and various accessories. Olympus is also a distributor of remote visual inspection instruments and high speed video cameras in the Americas. Olympus is based in Waltham, Massachusetts, USA, and has sales and service centers in all principal industrial locations worldwide.
For more information please contact:
Meindert Anderson
Corporate Marketing Communications Manager
(1) 781-419-3562
meindert.anderson@olympusNDT.com