Product News: Test & Measuring Instruments, Machinery & Machining Tools
Inline Production System supports programming and board test.
Press Release Summary: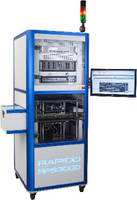 December 9, 2013 - Designed for in-system programming and board test based on Embedded System Access technologies, RAPIDO™ can utilize planar downholders in sandwich construction to safely handle ultra-thin, rigid-flexible boards with contact gaps up to 50 mil. All fixtures are equipped with intelligent module for identification and data storage, ensuring compatibility between fixture and target board. In addition, bandwidth, UUT, and test program can be automatically configured to avoid manual faults.
Original Press Release
GOEPEL Electronic Improves Flexibility of RAPIDO(TM) inline Systems for Programming and Test
Press release date: November 12, 2013
GOEPEL electronic announces the availability of new features in the RAPIDO™ multi-site inline production system family for high-speed in-system programming and board test based on the latest Embedded System Access (ESA) technologies.

One of the essential innovations is an option to utilize planar downholders in sandwich construction. Now ultra-thin, rigid-flexible boards with contact gaps of up to 50 mil can be safely handled in multiple-up production. Utilizing this technology, RAPIDO has become one of only a few systems that meet the challenges of safe inline contacting for such sensitive applications.

As a second innovation, all fixtures are equipped with an intelligent module for identification and data storage. The compatibility between fixture and target board can be ensured by means of this so called FID module (Fixture Identification and Data). Additionally, there is the opportunity to automatically configure the entire system incl. band width, UUT, test program, etc. This approach avoids manual faults and provides a simple and efficient UUT change. Furthermore, the FID module determines fixture state, stores the entire life cycle, and signals required maintenance work, such as probe changing.

Other amendments include an increase in adjustable band width for standard systems to 250 mm. Moreover, new functions at the MES interface (Manufacturing Enterprise System) are implemented. 

"The extension of our RAPIDO system family gives us the opportunity to meet the demands of high-volume production particularly in the automotive and consumer industries even better", says Alexander Beck, Team Manager Integration in GOEPEL electronic's JTAG/Boundary Scan Division. "All developments are derived from customer concerns and the growing range of installations and applications. In association with our extensive worldwide service, we are able to deliver individually configured standard solutions with highest productivity."

About the RAPIDO™ system family:
The range of RAPIDO products includes three models with different nail counts, sites and user areas. Furthermore, there are numerous options for system adaptation to specific customer needs for inline integration or programming strategies. All systems are based on the utilization of advanced ESA technologies for test and programming of highly complex boards.

All types of Flash devices such as NOR, NAND, eMMC with parallel or serial interface are supported as programming targets. In the case of Flash that is externally accessible via connectors, direct programming by means of probes is possible because RAPIDO features separate dynamic I/O. Additional targets are microcontrollers and all types of PLDs or FPGAs.

In addition to programming, there is a wide range of structural test methods and solutions for at-speed tests. The main focus concentrates on interconnection tests of Ball Grid Array (BGA) chips and functional verification of all circuit elements.

Core elements of the RAPIDO system are the well-proven and mature software and hardware platforms SYSTEM CASCON™ and SCANFLEX®, respectively. Together with the new Short Wire Interface they provide the highest reliability and safety at maximum productivity. Furthermore, RAPIDO features various options for combination with functional board test up to 100 MHz, customer-specific extensions, programming via CAN, LIN or FlexRay, as well as coupling with assembly magazines and PASS/FAIL sorters.

The RAPIDO systems' distribution and support will be guaranteed through GOEPEL electronic's globally established network of branches and selected partners. Service includes shipping, installation and maintenance of complete preconfigured turnkey solutions.

About Embedded System Access (ESA):
ESA technologies enable the electrical access to embedded systems without utilizing mechanical nails or probe contacts (non-invasive methods). They apply design-integrated test and debug interfaces such as JTAG. In addition to Boundary Scan, ESA technologies include procedures like Chip Embedded Instruments, Processor Emulation Test, FPGA Assisted Programming, In-System Programming and Core Assisted Programming. ESA technologies are currently the most modern strategies for validation, test and debug as well as programming of complex chips, boards, and complete units. They can be utilized throughout the entire product life cycle and provide increased test coverage at reduced costs.

About GOEPEL electronic:
GOEPEL electronic is a worldwide leading vendor of innovative electronic and optical test and inspection systems, market leader for professional JTAG/Boundary Scan solutions for Embedded System Access (ESA). A network of branch offices, distributors and service partners ensures the global availability of the products as well as the support of the more than 7,500 system installations. Founded 1991 and headquartered in Jena, Germany, GOEPEL electronic employs currently about 200 employees and generated a revenue of 26 Million Euro in 2011 (ca. $35 Mio). GOEPEL electronic has continuously been ISO9001 certified since 1996 and has been honoured with TOP-JOB and TOP-100 awards for being one of the best medium-sized companies in Germany. GOEPEL electronic's products won several awards in recent years and are used by the leading companies in telecommunication, automotive, space and avionics, industrial controls, medical technology, and other industries. Further information about the company and its products can be found on the internet at www.goepel.com.

Press Contact:
Stefan Meissner
GOEPEL electronic GmbH 
Goeschwitzer Str. 58-60/66
D-07745 Jena
Tel: +49-3641-6896-739
Fax: +49-3641-6896-944
Email: press@goepel.com
URL: www.goepel.com