Product News: Safety & Security Equipment, Vision Systems, Optics & Photonics
Infrared Camera is suited for security and surveillance.
Press Release Summary: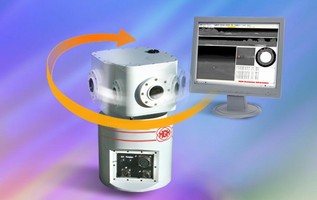 August 21, 2008 - With sensor that contains 3 million pixels (10,000 x 288), IR Revolution 360, 20° vertical, 360° horizontal FOV panoramic vision system delivers high resolution imagery via rotating head that scans full 360° rotation/sec. Detector is based on HgCdTe imaging technology and operates in 8-12 micron wavelength, LWIR region. High sensitivity (less than 25 mK) IR camera detection range, without image distortion, is up to 1 km for human figure, up to 1.5 km for automobile, and up to 6 km for boat.
Original Press Release
HGH Infrared Systems Introduces a 3 Million Pixel, 20-Degree FOV, IR Panoramic Camera
Press release date: August 7, 2008
August 7, 2008 - Cambridge, MA - HGH Infrared Systems (hghinfrared.com), manufacturers of advanced infrared cameras and a variety of thermal imaging products and systems, introduces the new IR Revolution 360, a 20° vertical, 360° horizontal field of view (FOV) panoramic infrared vision system for security and surveillance. The revolutionary sensor contains approx. 3 million pixels (10,000 x 288). This advanced thermal imager delivers clear, extremely high resolution imagery via the rotating head that scans a full 360-degree rotation per second. Other features include auto detection and tracking, a motion alarm, and an area-of-interest zoom.
The detector is based on mercury cadmium telluride (HgCdTe) imaging technology and operates in the 8 -12 micron wavelength, the long-wave infrared (LWIR) region. The high sensitivity (<25 mk)="" ir="" camera="" detection="" range,="" without="" image="" distortion,="" is="" up="" to="" 1="" kilometer="" (km)="" for="" a="" human="" figure,="" up="" to="" 1.5="" km="" for="" an="" automobile,="" and="" up="" to="" 6="" km="" for="" a="" boat="" or="">25>
With wide area coverage (a full 360 degrees) and an ultra-fast image rate, the new infrared camera from HGH delivers the highest image quality available in any panoramic camera. The image control and display software is PC-compatible (XP Professional) and included with the camera package.
HGH Infrared's new IR Revolution 360 is housed in a compact, environmentally-sealed case that can easily be mounted atop a security vehicle, on a building, or on the ground. Ideal for perimeter security, force protection, passive surveillance for coastal and border areas, search and rescue, early detection of forest fires, airport traffic monitoring, and more.
HGH Infrared Systems - Cambridge, MA - hghinfrared.com - Manufacturer of the world's only real-time, 360-degree panoramic infrared (IR) security camera, the IR Revolution 360. With exceptional image quality, automatic detection and tracking, the new thermal imager is ideal for security, surveillance, border patrol, police force and military troop protection and early forest fire detection. Other infrared products from HGH include tunnel inspection, cement kiln scanning systems, infrared line scanners for sheet glass, optical test benches, blackbodies, spectroradiometers and IR field equipment.