Product News: Optics & Photonics
Industrial Picosecond Laser suits micromachining applications.
Press Release Summary: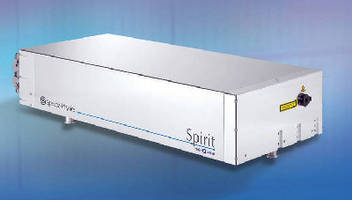 May 10, 2013 - With more than 10 W average power, Spirit™ ps 1040-10 is suitable for semiconductor and LED manufacturing, flat panel display processing, thin film ablation, and nano structuring. Laser delivers beam quality of M2<1.2, stability of less than 1% rms over 100 hours, and short pulse width of 13 ps. Providing user-adjustable repetition rates from single shot to 1 MHz, system includes integrated pulse picker for fast pulse selection and control.
Original Press Release
Spectra-Physics® Introduces Industrial Picosecond Laser
Press release date: May 9, 2013
• New laser with high finesse, flexibility, and reliability is ideal for precision picosecond micromachining

Santa Clara, CA – Spectra-Physics®, a Newport Corporation brand, introduces Spirit™ ps 1040-10, an industrial-grade picosecond laser for precision micromachining applications. The new laser delivers high finesse with exceptional beam quality (M2< 1.2),="" high="" stability=""><1% rms="" over="" 100="" hours),="" and="" short="" pulse="" widths="" (13="" ps).="" the="" laser="" is="" also="" highly="" flexible="" with="" user-adjustable="" repetition="" rates="" from="" single="" shot="" to="" 1="" mhz="" and="" an="" integrated="" pulse="" picker="" for="" fast="" pulse="" selection="" and="" power="" control.="" with="">10 W average power, the laser is ideal for precision picosecond micromachining applications such as semiconductor and LED manufacturing, flat panel display processing, thin film ablation, and nano structuring.

"The Spirit ps laser's precise beam shape, pulse duration, and energy translate into high-precision application results," says Herman Chui, senior director of product marketing for Spectra-Physics. "Combined with its flexibility in repetition rate and pulse energy, this rugged industrial laser is ideal for a wide range of critical picosecond micromachining applications."

Spectra-Physics' Spirit ps 1040-10 laser is based on the field-proven Spirit industrial ultrafast laser platform. With high quantities of deployed systems in demanding 24/7 applications, this rugged product platform has consistently demonstrated high reliability.

The new Spirit ps 1040-10 laser will be featured at LASER World of Photonics in Munich, Germany, May 13-16, 2013. Please visit Newport Spectra-Physics' booth # 560 in Hall B1 for a demonstration. For more information, please visit: www.newport.com/Spirit-ps.  

About Newport Corporation
Newport Corporation is a leading global supplier of advanced-technology products and systems to customers in the scientific research, microelectronics manufacturing, aerospace and defense/security, life and health sciences and precision industrial manufacturing markets.

Newport's innovative solutions leverage its expertise in high-power semiconductor, solid-state and ultrafast lasers, photonics instrumentation, sub-micron positioning systems, vibration isolation, optical subsystems and precision automation to enhance the capabilities and productivity of its customers' manufacturing, engineering and research applications.  Newport is part of the Standard & Poor's SmallCap 600 Index and the Russell 2000 Index.

Company Contacts:

Elizabeth Peartree
Sr. Marketing Communications Manager
Tel: +1 408-980-4305
Email: elizabeth.peartree@spectra-physics.com

Herman Chui
Sr. Director of Product Marketing
Tel: +1 408-980-6996
Email: herman.chui@newport.com
1%>