Product News: Computer Hardware & Peripherals
Industrial Panel Computer provides 2 PCIe expansion slots.
Press Release Summary: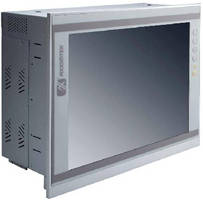 February 15, 2013 - Equipped with 12.1 in. XGA TFT display, Model P1127E-871 supports 22 nm 3rd and 32 nm 2nd Generation Intel® Core™ i7/ i5/ i3/ Celeron®/ Pentium®/ Xeon® processors in LGA1155 socket with Intel® C216 chipset. Unit includes 2 DDR3-800 SO-DIMM sockets up to 16 GB and supports DVI and HDMI simultaneously. Housed in aluminum with IP65/NEMA 4 sealing, computer offers optional WLAN module antenna for wireless networking up to 150 Mbps. It supports 3 COM ports, 4 USB 3.0 ports, and SATA 6 Gbps interface.
Original Press Release
Axiomtek P1127E-871 - 3rd Gen. Intel® Core(TM)-Based 12.1" XGA TFT Industrial Panel Computer with 2 PCIe Expansion Slots
Press release date: February 7, 2013
Featuring ruggedized IP65/NEMA protection, rich I/O, dual view support, and WiFi 802.11 b/g/n connectivity

Taipei, Taiwan – Axiomtek announced the release of P1127E-871, a ruggedized 12.1" XGA TFT industrial panel computer supports new 22nm 3rd & 32nm 2nd Generation Intel® Core™ i7/ i5/ i3/ Celeron®/ Pentium®/ Xeon® processors in LGA1155 socket with Intel® C216 chipset.  This all-in-one industrial-grade panel PC has a new fashionable mechanism design, yet still provides protection with aluminum housing and IP65/NEMA 4 sealing.  The P1127E-871 offers workstation-level performance and features dual display interface, 2 expansion slots and WiFi connectivity, making it an excellent solution for factory automation, kiosk, and more industrial fields.

"This new addition to our industrial panel computer series is being reformed to be a highly integrated and easy-to-use platform.  There are only 3 screws on its back chassis so users can quickly remove it and maintain & install with ease."  said Virgil Hsu, Product Manager of Product Marketing Division at Axiomtek.  "In addition, the scalable P1127E-871 adopts Smart Fan to automatically adjust the fan speed depending on the temperature of the CPU, and further lower noise and advance system reliability.  Moreover, this all-in-one unit supports 3 COM ports, 4 USB 3.0 ports, and mainstream SATA 6Gb/s interface with faster transfer speed." 

Expansion capability with 2 PCIe or 2 PCI slots
The powerful industrial panel PC P1127E-871 offers 2 PCIe x8 or 2 PCI slots for expansion purpose. User can easily plug in standard half-size PCIe or PCI card for any requirement.

Dual monitor display
This ruggedized 12.1-inch industrial panel computer supports DVI and HDMI simultaneously that features the use of dual display devices for increasing the area available for programs running on a single computer system. It not only increases larger screen viewing but also improves the productivity.

Speaker and WLAN antenna (optional) supported
The application ready panel system features built-in speakers for kiosk application to display multimedia content program.  It also supports WLAN module antenna (WiFi 802.11 b/g/n) (optional) for wireless network connectivity up to 150Mbps data rate.  By just plugging in the WLAN module, users can have instant access to wireless LAN/GPRS/GSM/3G freely.

IP65/NEMA water/dust-proof design
To withstand harsh operating environments, the P1127E-871 is made with a robust mechanical design and has an IP65/NEMA 4 water/dust-proof protection to prevent the system from outside damage.

Full I/O and more features
Axiomtek P1127E-871 includes two DDR3-800 SO-DIMM sockets maximum up to 16 GB.  Interfaces for DVI, HDMI, three COM (2 x RS-232, 1 x RS-232/422/485), four USB 3.0, two USB 2.0, two Gigabit Ethernet ports, audio (Line-out), and one 2.5" SATA HDD drive bay are available.     In addition, this unit can be installed using panel mount, wall mount, VESA arm and desktop stand depending on the application need.

The Intel® Core™-powered expandable industrial panel computer P1127E-871 is available for shipping now.  For more product information or pricing, please visit us at www.axiomtek.com or contact one of our sales representatives at info@axiomtek.com.tw.

P1127E-871 Main Features:
12.1-inch XGA TFT expandable industrial panel computer
Supports new 22nm 3rd & 32nm 2nd Generation Intel® Core™ i7/ i5/ i3/ Celeron®/ Pentium®/ Xeon® processors in LGA1155 socket with Intel® C216 chipset
IP65-rated water/dust-proof front bezel and NEMA 4 protection
Less screw design on back chassis for user's convenience
Expansion capability with 2 PCIe x8 or 2 PCI
Speaker and WLAN module (optional) supported
Dual view support (DVI and HDMI interfaces)
Three COM (1 x RS-232, 1 x RS-232 with 5V & 12V, 1 x RS-232/422/485 with 5V & 12V), four USB 3.0, two USB 2.0, two Gigabit Ethernet ports, audio (Line-out)
Supports panel mount, wall mount, VESA arm and desktop stand