Industrial Linear and Rotary Actuators support Ethernet/IP.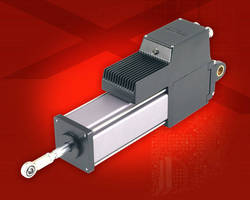 Industrial Linear and Rotary Actuators support Ethernet/IP.
July 8, 2010 - Tritex II(TM) actuators utilize Ethernet/IP link to PLC or HMI that enables users to send and receive data quickly to operate actuator with machine automation control system. Use of Ethernet/IP allows transfer of 100 input and 100 output 16-bit registers, connection through M12 Ethernet connector, connectivity to Rockwell PLCs, and EtherNet/IP register mapping and configuration setup via Tritex Expert software. Units operate from 100-240 Vac, allowing direct connection to factory power sources.

(Archive News Story - Products mentioned in this Archive News Story may or may not be available from the manufacturer.)
Original Press release

Exlar Corp.
1470 Lake Dr. W.
Chanhassen, MN, 55317
USA



Exlar Tritex II(TM) Actuators Support Ethernet/IP for Enhanced Communication between Industrial Control Systems and Components


Tritex II rotary actuator

Chanhassen, MN - Exlar announces the implementation of EtherNet/IP with its Tritex II(TM) linear and rotary actuators and the accompanying ODVA Declaration of Conformity to the EtherNet/IP Specification. EtherNet/IP is an industrial protocol operating over the Ethernet medium and is used for communication between industrial control systems and their components, such as a programmable automation controller, PLC or an I/O system.

This communication link to a PLC or HMI enables operators to send and receive the data they require in a timely manner to operate the Tritex II actuator with a machine automation control system. Some of the highlights of the Exlar EtherNet/IP implementation include:

o Transfer of 100 input and 100 output 16 bit registers

o EtherNet/IP register mapping and configuration setup through the Tritex Expert software interface allows access to any parameter

o Connection through industrial standard M12 Ethernet connector

o Connectivity to Rockwell PLCs that support implicit or explicit messaging-Compact Logix and Control Logix are recommended

o Connectivity to any other EtherNet/IP Master/Server device (HMI, PLC or other automation control system) that supports EtherNet/IP

Tritex II actuators operate from 100-240VAC, allowing direct connection to factory power sources. Enhanced Expert software features include 16 programmable indexes, linked moves and communications via the actuator's Modbus port. Through a RS/485 protocol, this port allows complete control, programming and monitoring of all aspects of the Tritex actuator as it performs an application.

The Tritex actuator has ample I/O capability: 8 digital inputs, 4 digital outputs, and one analog input and output. Feedback choices include analog hall effect (standard) and incremental encoder for high positioning resolution. The new Tritex design offers excellent connectivity with internal terminals accessible through the actuator's removable cover. Tritex also offers provision for imperial or metric threaded ports for cable sealing glands, optional M23/M16 connectors for power and I/O, with an M8 connector for the RS/485 port.

Tritex linear actuators provide the same form factor as hydraulic and pneumatic actuators, and they allow simple and clean all-electric retrofits in former fluid power applications. They are available with many different mountings (metric or imperial), such as front flange, rear clevis mount, side mount, trunnion mount, extended tie rod and rear flange.

Tritex rotary actuators are available in standard IEC metric dimensions. Direct drive units as well as units with integral planetary gearing provide compact, powerful solutions for most rotary applications. Custom mounting and options for both rotary and linear actuators are available to meet all of your installation requirements.
Exlar Corporation designs, manufactures and sells linear and rotary motion products worldwide. For general product information, contact Exlar Corporation, 1470 Lake Drive West, Chanhassen, MN 55317, phone 952-368-3434, and fax 952-368-4359. Visit our website at www.exlar.com.

---


Start Your

Free


Subscription to


Industry Market Trends

.